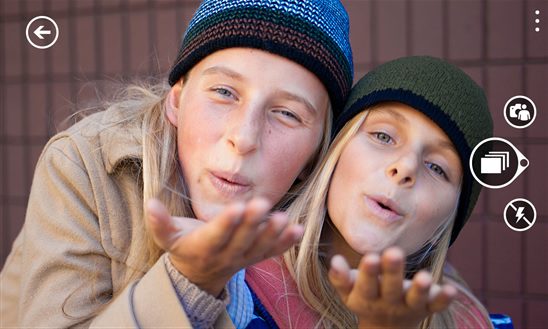 Microsoft Research today released an update for Blink photo app for Windows Phone 8 devices. This v2.4 update is a major revamp of the app with much better UX and improvements. If you are not aware of it, Blink app allows you to capture the best shot or the action. Blink captures a burst of images before you even press the shutter, and continues to capture pictures after you've taken your shot. You can save and share the shot you like best or even save a short animated Blink and share it to Facebook, Twitter, or Blink.so.cl.
New! Version 2.4:

– Fresh new look: New branding and refreshed UI elements throughout the app.
– Dual Modes: Switch easily between two modes – Blink mode to edit and share your animations, and still mode to save and share the perfect shot.
– Focus Lock: Tap on the screen to lock focus in that the region. That region will always remain in focus even across phone movements. Tap again to unlock.
– Improved stabilization: Even better video stabilization so that your Blinks play without any camera shake or jitter.
– Live Tile: Pin Blink to the start screen and see your perfect shots on the live Tile. (Note: might require a phone reboot or a unpin/re-pin for live tile to start showing.)
– My Blinks: A new gallery view in the Blink roll to quickly jump among captured Blinks.
– Tutorial: An interactive tutorial is included to quickly get you going.
– Orientation lock: Bug fix to orient Blinks correctly on sharing, under orientation lock.
Download it here from Windows Phone Store for free. I hope Blink becomes the part of native camera experience in Windows Phone 8.1!