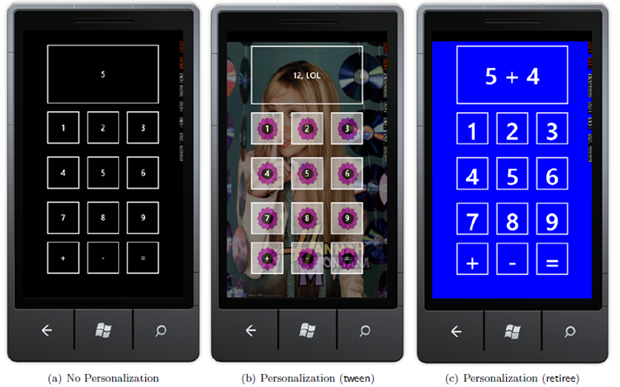 Personalization and customization is a particular issue on Windows Phone 7, where the best users can do is arrange tiles and chose main and accent colours.
In a Microsoft Research paper recently published the researchers propose creating a background service on a Windows Phone which would collect information from sources such as Facebook, twitter and email to build up a broadstroked profile of a user, such as "business executive" or "soccer mum" which could then be presented to applications via an API, much like how the accent colours are being presented to apps at the moment, allowing them to customize their appearance, features and even advertising to users, without revealing actual details to the apps, and therefore still protecting the privacy of users.
Calling the service MoRePriv, the researches implemented the framework on top of Windows Phone 7, and note that it allowed apps to be personalized while effectively reducing the amount of privileges applications needed, thereby protecting the user.
Read their paper at Microsoft Research here.
We of course have no idea if this research will actually end up in the Windows Phone OS, but it would be an interesting way to allow more customization of Windows Phone while still keeping everything coherent.