Today Microsoft Research reported on some work they are doing with Stanford School of Medicine to recognize and appropriately respond to queries such as "How do I perform CPR?"
The search engine would recognize when such queries are urgent rather than relaxed searches for information, and offer immediate and practical advice.
An example of such a scenario would be if some-one used their phone to search how to perform cardiopulmonary resuscitation (CPR).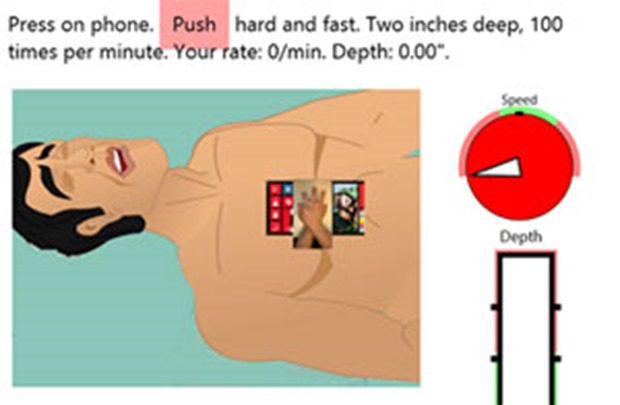 The phone would then suggest calling 911 immediately and then offer further step-by-step instructions. While the ambulance is on its way, the phone would advise on the location of an automated external defibrillator nearby and suggests that someone be asked to retrieve it. The phone would then suggest being placed directly on the chest of the victim and offer instructions on how to perform chest compressions. The accelerometer in the device would explain the correct depth of compression and how quickly they must be performed while waiting for the ambulance to arrive.
In the CPR scenario above the accelerometer on a mobile phone would deliver real-time feedback to the person performing the chest compressions. The phone can offer auditory and visual feedback to direct the user to identify the correct depth needed for an effective chest compression (two inches) and how quickly the compressions should be performed (100 times per minute). The phone would also vibrates at the rate of 100 times per minute, which can be invaluable amid chaotic situations in which verbal cues can be difficult to hear.
The project stems from usage patterns gleaned from analysis of mobile search logs, including sensor data available from mobile devices. Those patterns characterize the use of search engines for time-critical situations and enable the researchers to develop models to predict urgent informational needs, given a query and a diverse set of features with topical, temporal, behavioural, and geospatial attributes.
The methods have been found to have the ability to detect medical emergencies with a high degree of accuracy and, having done so, can deliver targeted first-aid information.
The settings in which this research could have lifesaving potential are not limited to the CPR scenario above. Others could include queries such as:
Am I having a stroke?
How can I stop severe bleeding?
A baby is choking!
The research, titled  Time-Critical Search, will be presented at the Association for Computing Machinery's 37th annual international conference of the Special Interest Group on Information Retrieval (SIGIR), to be held on Australia's Gold Coast from July 6 to 11.
Nina Mishra, one of the researches on the project notes:
"Going forward we envision using the richer signals of a smartphone to assist the next person in need of help."