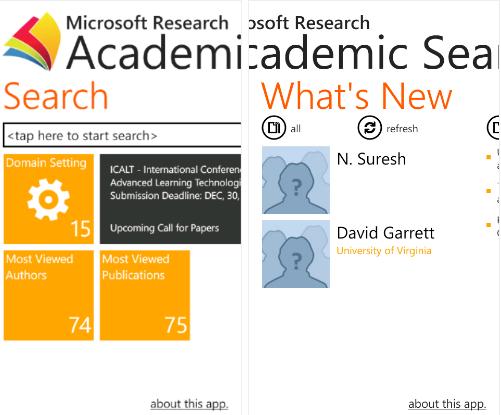 Academic Search from Microsoft Research is one of the most useful services for students and researchers. It allows you to search and explore over 36 million academic publications across 14 domains. Other features in its web app such as co-author graph, co-author path, domain trends are amazing. The web app also has its Windows Phone client which was updated today with more domain support.
App Features:
 • Search the Academic Search by author, title, keyword, the results can be narrowed down to specific domains.
• View the object detail page by clicking a publication title or an author name.
• "Add to Favorites" allows you to easily keep updated on all your favorite scholars.
• Email yourself or others publications you are interested for later reference.
• Keep track of information about upcoming conferences.
• The publication coverage has been expanded to all domains.
• Add search history support to basic search.
• Allow users to share publications by sending emails.
• Add "Recently Viewed Lists" to help you re-find publications that have previously interested you.
• Refine favorite button design to make it more user friendly.
Its a must have app if you are doing a academic project or research ! ! You can download the free app here from the marketplace.
Update: I forgot to mention that it is one of the best implemented Silverlight apps on the Internet. Check it out here.