Windows Phone 8.1 brings a more powerful version of Microsoft's Datasense service, which will reduces data usage by acting as an invisible proxy and also by blocking some ads.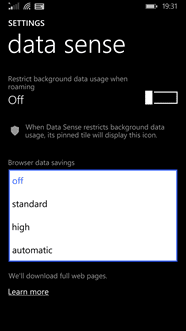 Now Microsoft has released an app, IE Data Savings, which lets you see just how much data the service has actually been saving you.
You can look back over this day, this week or all the way back over the last 6 months.
Of course if you have not activated Browser Data Savings, the app will probably tell you you have not saved any data at all.
To reduce data use when browsing the web:
In the App list, tap Data Sense .

Tap Settings .

Under Browser data savings, do one of the following:

Tap Off if you don't want Data Sense to apply any data-saving measures to web pages.
Tap Standard to have Data Sense save you data by slightly compressing pictures and other elements on web pages you visit.
Tap High to have Data Sense save even more data by compressing pictures, blocking some ads, and downloading only part of a web page.
Tap Automatic to have Data Sense automatically pick the best data savings setting based on how close you are to hitting your data plan limit. This is the recommended setting.

Find the IE Data Savings App in the Windows Phone Store here.
Via NPU