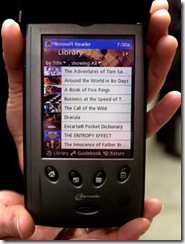 Microsoft, at least in the mobile world, has a habit of starting something and then leaving the job half-done.
Microsoft's Reader with its .lit format was an early competitor in the eReader market and was especially well known for its amazingly well rendered fonts and good formatting.  It was also known for its cumbersome DRM however.
Microsoft Reader was long thought to be dead, but MediaBistro noted the corpse stirring however, with a .1 update to 2.4.2 arriving to make the software compatible with Windows Mobile 6.1.  The update became available in the 10-9-09, 4 years after the last one. 
Amusingly the Reader page makes plenty of references to Windows Mobile 2003, and cone can just see the cobwebs littering the page.
MediaBistro speculates that Microsoft intends to bring to software to the ZuneHD, but it could as easily be targeted at the new Marketplace for Windows Mobile or a very late attempt to tackle the Kindle.
If you are feeling like reviving your old .lit books, download the update from here.