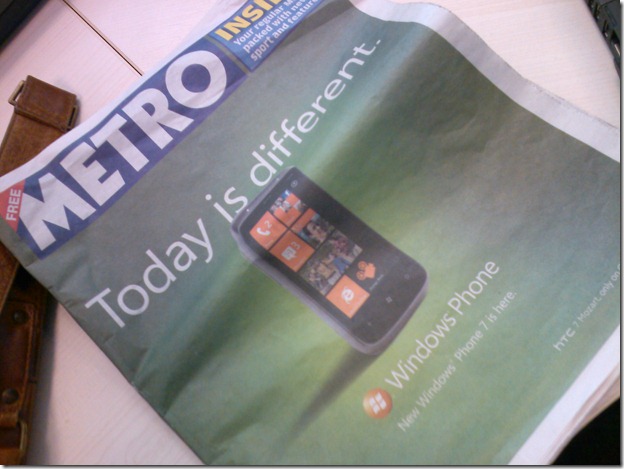 We were initially concerned that Microsoft was not doing much to promote awareness of the launch of their new OS.
The picture above of a full page front-page add in the Metro (via twitpic), a free newspaper read by millions of commuters each day, does go some way to assuage that.
Microsoft also managed to make it to the society pages by dragging the stars to the launch event last night (well, more like C-class stars, but at least they made the newspaper).
In Australia Telstra dragged out the worlds manliest man,  Isiah Mustafa, who apparently got very fresh with many ladies down under, including saying all kinds of "doggy stuff to NovaFM's Ricki-Lee."
Microsoft is even giving a way free Farm Cash for the millions of Farmville fanatics who watch a demo of Windows Phone 7.
Unfortunately the big story of the day remains the poor availability of handsets. Levi Freeman was able to confirm with his Vodafone rep that the carrier has no handsets in stock, and at this stage could not say when they will become available either.
He was however able to confirm they would carry the HTC 7 Trophy and LG Optimus 7.
Have any of our readers managed to get their hands on a phone yet? Let us know below.