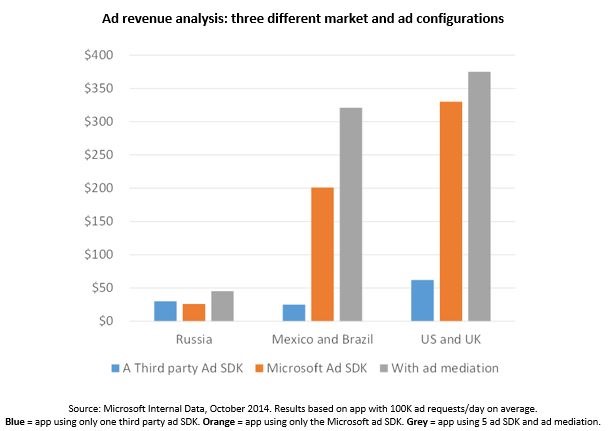 Microsoft has provided a new in-app ad solution for Windows Phone developers which allows them to increase their ad fill rate by using a so-called impression waterfall.
This is where a developer uses a number of ad networks, and then displays an alternative ad network if their first choice is not able to display an ad.
In the graphic above Microsoft shows how this solution, which ensures developers are able to display an ad 95% of the time, are able to earn more than using any single network.
Microsoft is partnering with ad networks AdDuplex, Inneractive, and Smaato and will also support AdMob, InMobi and MobFox.
Besides the revenue increase, which can be up to 200%, Microsoft is also incentivising developers to implement the solution by giving DVLUP points, which can be redeemed for rewards.
To implement the solution developers simply need to insert the ad mediation code in their app, select the ad networks they want to include, choose their base configuration in Dev Center and submit their app update to the Store.
Read more about implementing the new feature here.