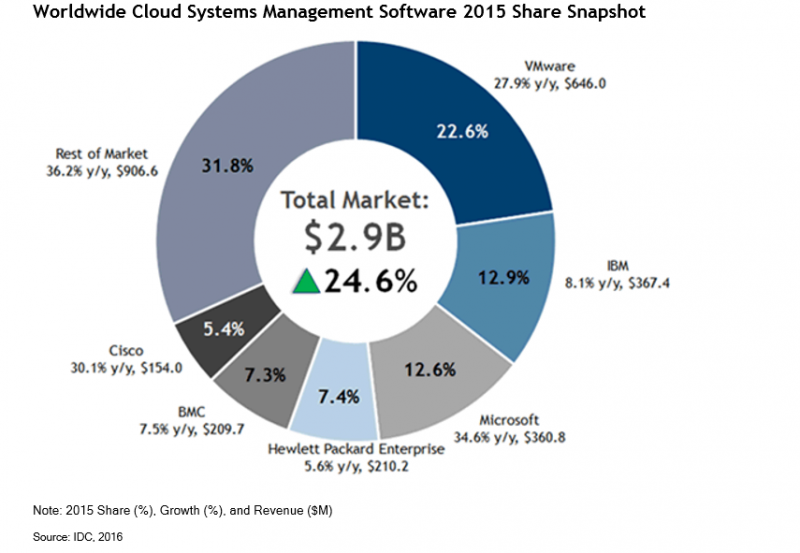 They might not be the top dog, but Microsoft has something to show for  its enterprise cloud management efforts.  New figures from IDC show the company's software with 12.6% market share in 2015.  That's good enough for third overall, and just slightly behind IBM.
VMWare is the undisputed leader in the market right now with nearly a quarter of the industry.  This is the third year they've topped the list.  But IDC noted that Microsoft is coming up fast, noting the company's rapid growth in market share recently.  As Microsoft grows, so does the cloud industry overall.
IDC reports the entire market earned nearly $3 billion in 2015, up nearly 25% from the year prior.  Unlike most consumer platforms, this industry remains significantly fragmented.  Smaller services make up nearly a third of this industry.
Serious Business
With each passing year, more companies are realizing that cloud-based services are faster and more efficient without sacrificing stability or security.  Microsoft is right to hit this industry hard, hoping to catch a large piece of the pie as the billions grow with each passing year.
In its report, IDC stated: "Demand for datacenter automation software and SaaS solutions continues to expand as more and more organizations recognize that modern application architectures and multi-cloud infrastructure strategies require IT operations teams to be able to rapidly provision, update, and scale distributed applications, as well as physical, virtual, container, and cloud resources to support digital transformation initiatives."
Cloud management is certainly not appealing to the average consumer.  But when you are talking several billion dollars. Microsoft and its competitors are fine with taking the nerdier route.  The business world is changing, and Microsoft is trying to lead the charge into a new way of doing business.  But they're not alone.  And as the dollars build, so will the competition.  Don't be surprised by significant moves (i.e. buyouts and acquisitions) in this market in the years ahead.