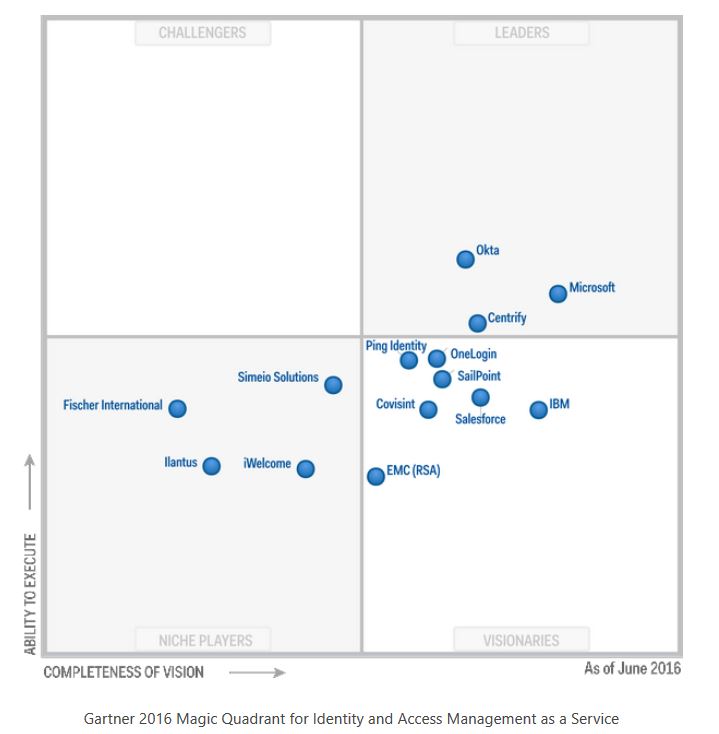 Gartner has recognized Microsoft as a Leader, positioned furthest to the right for completeness of vision, in the 2016 Magic Quadrant for Identity and Access Management as a Service. In only its second year on the Gartner Identity and Access Management as a Service Magic Quadrant Microsoft was placed in the "Leader" quadrant, far to the right of our competitors for their completeness of vision and their ability to execute.
"We're thrilled with the result. It really validates our vision of providing a complete solution for hybrid identity and access for supporting employees, partners and customers all backed by world class security based on Microsoft's intelligent security graph.  This result says a lot about our commitment in the identity and access management space but more importantly about our customers, implementation partners and ISV partners who have worked together with us," said Alex Simon, Director of Program Management at Microsoft Identity Division.
Here's what Gartner mentioned in their report about Microsoft,
Microsoft's Azure Active Directory Premium offering provides features that are in line with other web-centric IDaaS providers, and includes licenses for Azure Multi-Factor Authentication (MFA). It also includes licenses for Microsoft Identity Manager (MIM) that are to be used with customers' on-premises systems. Microsoft also offers Azure Active Directory Premium as part of its Enterprise Mobility Suite (EMS), along with Microsoft Intune EMM and Azure Rights Management, and the on-premises-based Advanced Threat Analytics tool.

Strengths

Microsoft continues to leverage its current and substantial customer base for Office 365 and other products to add Azure Active Directory and EMS to contracts. The vendor has broad and deep marketing, sales and support capabilities, and it has been pricing EMS low, which has put significant pressure on other IDaaS players.

The vendor has already demonstrated high scalability with Azure Active Directory. The service underpins other Microsoft Azure services.

Microsoft has a strong international presence for its service offerings, and continues to expand its IaaS presence worldwide.

Through acquisition and development, the vendor has demonstrated advancement of its strategy to secure identities, data and devices.

Microsoft's strategy demonstrates a strong understanding of the technology, socioeconomic, security and jurisdictional trends that will shape its offerings going forward.

Cautions

The Azure Active Directory B2C and B2B Collaboration subservices were in public preview (beta) at the time our analysis was performed. These offerings will likely need time to mature relative to competition with established B2C and B2B use-case support.

Microsoft's on-premises "bridge" components for synchronization and federated SSO are now managed under one umbrella component, Azure Active Directory Connect. However, based on Gartner client interactions, these components generally need more infrastructure and more effort to manage than competitors' bridge technology.

Microsoft can manage the transition of organizations with multiple Active Directory forests to one tenant of Office 365; however, Gartner client feedback is that this transition is easier with competitors' IDaaS offerings.

Microsoft lags behind competitors in the number of apps it can provision to, as well as the depth of SaaS account fulfillment that supports the provisioning of roles, groups and other attributes.
Microsoft's only competitor seems to be San Francisco based startup Okta. While Okta's market penetration and proven implementations can be considered as advantages, they are venture-funded and will have limited resources. I doubt their ability to compete effectively as they continue to face intensified competition from Microsoft and other vendors. What do you think?

Read the full report from Gartner here.