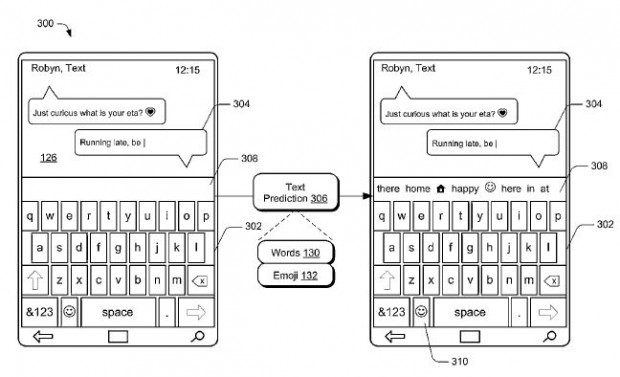 With Windows Phone 8.1, Microsoft updated their keyboard to include emoji suggestions while typing. For example, when an user types 'home', emoji for home was offered as a suggestion to use. Microsoft first demoed it at BUILD developer conference last year and this feature is now available in all Windows Phone 8.1 devices. Since then, many 3rd party keyboard apps like Swiftkey has now added support for emoji predictions.
Abstract:
Techniques to employ emoji for text predictions are described herein. In one or more implementations, entry of characters is detected during interaction with a device. Prediction candidates corresponding to the detected characters are generated according to a language model that is configured to consider emoji along with words and phrases. The language model may make use of a mapping table that maps a plurality of emoji to corresponding words. The mapping table enables a text prediction engine to offer the emoji as alternatives for matching words. In addition or alternatively, the text prediction engine may be configured to analyze emoji as words within the model and generate probabilities and candidate rankings for predictions that include both emoji and words. User-specific emoji use may also be learned by monitoring a user's typing activity to adapt predictions to the user's particular usage of emoji.
Microsoft has applied for patent on this cool feature back in 2013 and this patent got recently published online. If Microsoft was awarded with this patent, other keyboard developers may need to get license from Microsoft to include this feature in their product.