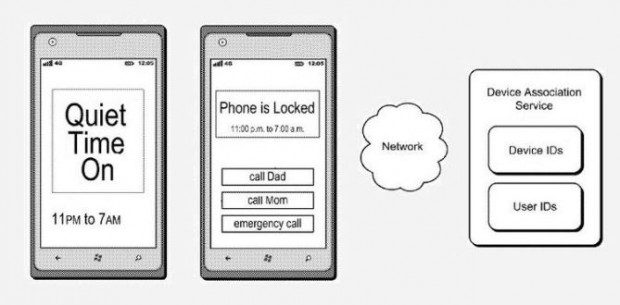 This is a really interesting patent that could make into future Windows Phone OS versions anytime soon. This could be the like the extension of the current Kids corner feature in the cloud that restricts people from accessing certain apps, etc,. Microsoft describes a great use case scenario for this feature, read it below.
Children and teenagers with connected mobile devices may have difficulty balancing the time that they spend in front of the many various devices, commonly referred to as "screentime", with other activities, including spending time with their family and getting enough sleep. Parents often have to regulate the amount of children's time with devices, such as texting, talking on the phone, watching television, and surfing the Internet. When children over use such devices, the parents may have to step-in and physically separate a device from a child, such as by taking a mobile phone or tablet computer away at bedtime.
So, parents can basically control their children's mobile device whenever they want! This is just for an example, actually it can be applied to lots of other use cases. Take for example, your phone is restricted while you are driving, or some crazy situations you can imagine.
Abstract:
In implementations of automatically quieting mobile devices, a mobile device includes a communication interface for communicating with other devices that are associated with the mobile device, and the other devices correspond to respective users of the devices. A device quiet service is implemented to initiate a device quiet control that quiets one or more of the other associated devices that are controllable by the mobile device, and the device quiet service initiates communication of the device quiet control to the associated devices. A device quiet control can be initiated to restrict communication functions of the other associated devices, such as for a designated time duration. Alternatively or in addition, a device quiet control can quiet the other associated devices at a designated location, during an event, within a designated quiet zone, and/or quiet the associated devices that are proximate the mobile device at a location.
What do you think of this patent from Microsoft?
via: Patent-bolt Source: USPTO