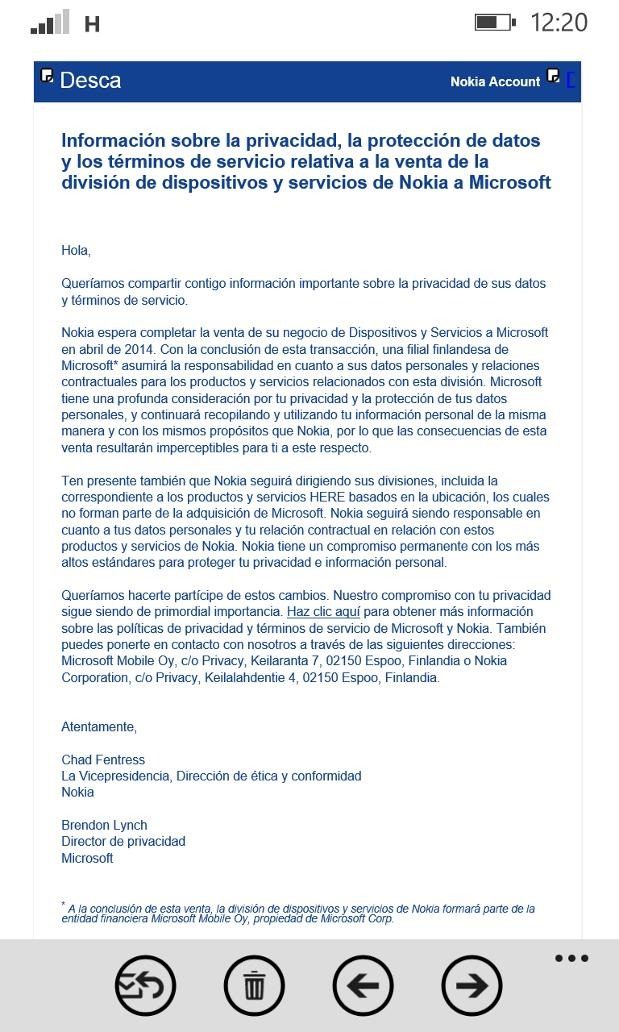 Microsoft and Nokia have sent a letter to Nokia's customers informing them of the impending transfer of their data from Nokia to Microsoft.
In the letter Microsoft says they expect the deal to close in April, and promise to only collect user data for the same reasons Nokia would, and also promises to be good stewards of the existing user data.
Interestingly Brendon Lynch Chief Privacy Officer at Microsoft also revealed that Nokia's handset division will become part of a new subsidiary at Microsoft called Microsoft Mobile, a structure which suggests either this segment will expand in the future, or the potential for the subsidiary to eventually spin off.
Read the full letter after the break.
Information privacy, data protection and terms of service related to the sale of Devices & Services unit to Nokia Microsoft

 

Hello:

We want to share important information about the privacy of your data and contracts.

 

Currently Nokia expects to complete the sale of their businesses Devices & Services to Microsoft in April 2014 . With the completion of this transaction, a Finnish subsidiary of Microsoft * take responsibility for your personal and contractual relationships for products and services with this business .Microsoft feels a deep responsibility for their privacy and protection of personal data, and continue to collect and use your personal information in the same ways and for the same reasons as Nokia, so you should not experience differences as a result of the sale.

 

Also, keep in mind that Nokia will continue to conduct their business, including the products and services HERE locations, which are not part of the acquisition of Microsoft. Nokia will continue to be responsible for your personal data and the contractual relationship regarding these products and services from Nokia. Nokia remains committed to the highest standards for protecting your privacy and personal data standards.

 

We wanted to notify you of these changes. Our commitment to your privacy remains paramount. For more information about the privacy policies and terms of service of Microsoft and Nokia, click here. You can also contact us at: Microsoft Mobile Oy, c / o Privacy, Keilaranta 7 02150 Espoo, Finland and Nokia Corporation, c / o Privacy, Keilalahdentie 4 02150 Espoo, Finland.

 

Sincerely,

Chad Fentress
vice president, director of compliance and ethics
Nokia

 

Brendon Lynch
Chief Privacy
Microsoft

 

* Upon completion of this sale, the division of Nokia devices and services form part of the financial institution Microsoft Mobile, a subsidiary of Microsoft Corp.