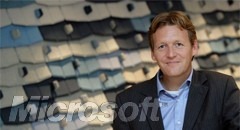 Maarten Sonneveld, Mobile Communications Business Group Lead at Microsoft Netherlands has spoken to Nieuwemobiel.nl in the wake of the Mango launch. 
He revealed a more specific date than the usual Fall, saying "Windows Phone Mango will sometime in the fall available, probably around mid-October."
He also said he expected updates to existing handsets will come before actual devices, which make sense given that we have been told new Mango handsets will be released throughout the year rather than in a wave like last yet.
He acknowledged that Windows Phone 7 currently had a small market share, noting that when attending cell phone shops as a mystery shopper sales staff steered him away from a Windows Phone.
"Recently I visited with a five-member Dutch team as Windows Phone mystery shopper a number of telecom stores, to experience how Windows phone was picked up by the telephone business. I asked a salesperson to a device where I can open Word and Excel Sheets. He advised me to get an Android device. "
"When I asked if Windows phone was a good choice, the seller told me that I should not choose a  Windows handset. "Maybe it's a because Nokia will soon participate," said the salesman. We hear often that people expect that Nokia will make the difference for Windows Phone. "
"It is true that we only have a small market share, but it is our goal next year is growing very fast. Last year was an initial period. "
Speaking to the future, he notes the range of specs and price points will grow.
"We will continue with the hardware requirements of Windows Phone, but we must look to the future with dual core processors, but also with simpler hardware. It is an asset that the Windows Phone experience on cheaper devices is feasible. "
Read more at Nieuwemobiel.nl.