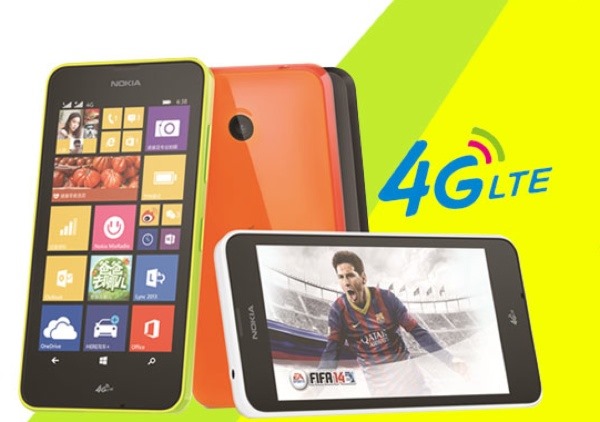 Real Time News reports that Microsoft is set to soon bring the LTE Nokia Lumia 638, currently on sale in China, to India, and that it will come with a ground-breaking price.
They report that dealers are already taking orders for the handset at around the 9000 INR ($145) price range, which is significantly cheaper than competing Android LTE handsets, and would make it the cheapest LTE smartphone in India.
RTE notes that the Xiaomi RedMi Note 4G is priced at Rs 9,999 while the LG F60, which has very very similar features to the Nokia Lumia 638, is priced at Rs 15,000.
Competing low-cost Android OEMs are hobbled by Mediatek's slow adoption of LTE technology, though this should be resolved by January next year. Those new handsets are however still expected to carry a premium over the NL 638.
The Nokia Lumia 638 is very similar to the NL 630 (on sale for around 7000 INR), but features 1 GB RAM and LTE in both TDD and FDD variants and the right frequencies used in India, allowing up to 150 MBs down and 50 MBs uploads.
It also has a 5 MP rear camera, a 4.5-inch 480 * 854 pixel display, Qualcomm Snapdragon 400 MSM8926 quad-core 1.2 GHz processor, 8 GB of built-in memory, 1830 mAh battery and will come in 4 different colours.
In September Microsoft revealed plans to leverage Indian operators' plans to launch high speed 4G LTE services to push their new handsets.
"We are also trying to push price point even lower on LTE devices like 635 to take advantage of that (Indian telecom operators plan to launch 4G services) opportunity. The goal is to make sure that we have a full portfolio that plays into that opportunity," Microsoft's Mobile Device Sales, Corporate Vice President Chris Weber said.
"We want to continue to push point lower and lower than anything we have today. That's the statement for both 3G and LTE (4G) because that is the thing which gives us scale of the ecosystem," Weber continued.
While Microsoft Mobile has neglected the flagship side of the Windows Phone business, it seems clear that they see their fortunes mainly in expanding the low-end side of the business with high value for money features. Here's hoping that strategy will pay off.
Thanks Aaron for the tip.