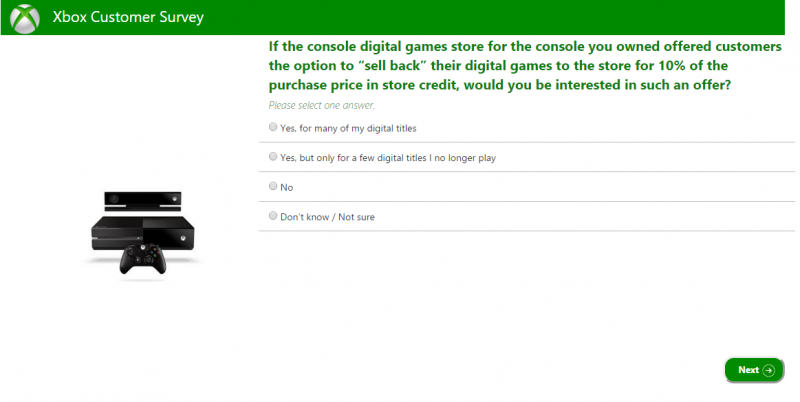 With the launch of the Xbox One, Microsoft made digital downloads a major component of purchasing games, and with the merging of the Windows and Xbox Stores, more and more digital games will be available for download on Redmond's go to gaming platform. Well according to a user on NeoGAF, Microsoft may be looking into buying those games back from gamers.
Currently, physical discs are the only formats that can be repurchased after gamers have had their run with the games, and GameStop is one of the major retailers doing the repurchasing. Now Microsoft is looking to get to get a piece of the pie, asking in a new Xbox Customer Survey:
"If the console digital games store for the console you owned offered customers the option to "sell back" their digital games to the store for 10% of the purchase price in store credit, would you be interested in that offer?"
With most games retailing at $59.99, the most you would likely net is $5.99 for any one game, and likely a lot less for many others. Then again, if you stopped playing specific games time ago, anything is better than nothing. And Microsoft wouldn't actually net anything off of the transaction being that the transactions are for digital copies.
Now this is far from set in stone, but would our readers be excited to receive 10% in store credits for digital downloads. Or do you believe that Microsoft should be offering more? Sound off in the comment section below.