Is Copilot the best AI companion out there? Help us find out by answering a couple of quick questions!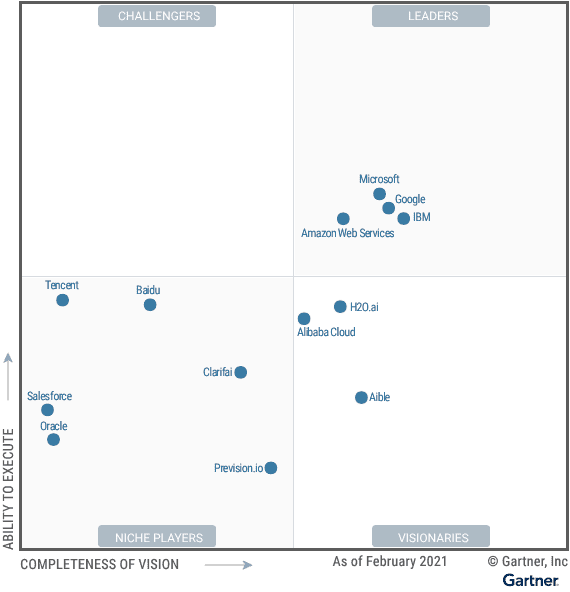 Gartner recently released its Magic Quadrant for 2021 Cloud AI Developer Services. In the report, Microsoft was placed in the 'Leaders' quadrant and was positioned highest on the ability to execute axis. Microsoft was positioned just behind Google and IBM on the completeness of vision axis. Right now, Microsoft offers a comprehensive offering for machine learning, computer vision and natural language. Gartner highlighted the below as the strengths and cautions of Microsoft's AI developer services.
Strengths:
Product or service:

 Microsoft continues to enhance its cognitive services, ML and autoML portfolio, which applies to multiple personas: data scientist, developer and citizen data scientist. The Azure Machine Learning designer offers a visual flow design tool to connect datasets and modules to create, test, train and deploy pipelines and ML models. Cognitive services provide stand-alone and customizable models for speech, language and vision.

Market understanding:

 Microsoft is among the more flexible providers of CAIDS in terms of deployment options. Its services are deployable in the Azure cloud, a virtual private cloud or on-premises via containers, based on enterprise customers' needs. Microsoft also integrates services with extended systems and devices with its intelligent edge options.

Innovation:

 Microsoft continues to advance its industry-leading natural language functions, recently adding neural voice for text to speech in 49 languages and expanding its Azure Cognitive Search capabilities. It has also clarified its conversational AI offering with a developer-focused approach based on Bot Framework, and a business-user-focused approach based on Power Virtual Agents. These two options can be combined in a single solution as needed.
Cautions:
Marketing strategy:

 Microsoft focuses its citizen developer AI offerings on its Power Platform; for instance, PowerBI and Power Virtual Agents. While Power Platform has 

prebuilt

 connectors to industry systems, the separate positioning of the citizen platform may force upon companies an enterprise roadmap for which they were not planning.

Sales execution/pricing:

 While Microsoft offers a free initial price tier and trial period for Azure AI and Power Platform, enterprises planning projects should model the expected production loads to better anticipate the costs once the trial period is over. This is particularly true with 

multicloud

 implementations.

Market responsiveness:

 Microsoft delivers AI services predominantly via its partner network and selectively engages directly with enterprises to develop solutions. This approach is not unique to Microsoft, but it can nevertheless prove challenging for organizations new to developing cloud solutions themselves.
You can find the full Gartner report using the link below.
Source: Gartner