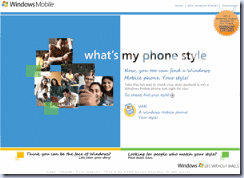 It seems Microsoft is pretty committed to winning over less developed markets.  We have already seen their hilarious video promoting the functionality of Windows Mobile phones.  Microsoft India has now gone one step further, producing a website which recommends Windows Mobile phones to consumers based on a 5 question questionnaire.
The WhatsMyPhoneStyle.com website is an online campaign that allows users to find out their style of phone by taking part in a quiz. Once users respond to the quiz, they will be shown the models of the Windows Mobile phones that correspond to their personalities. The users can also purchase their style of Windows Mobile phone online or make a call to the provided phone numbers to know about the phone's availability nearby.
WhatsMyPhoneStyle.com also provides a social networking feature as its users can share their experience on the usage of Windows Mobile with each other.
Microsoft India has partnered with local gadget website CafeGadgets.com and the call centres of the corresponding OEMs so recommendations can quickly turn into sales.
I cant comment on the accuracy of the system, as when I did the quiz I was recommended a HTC Touch Viva or an Asus M930.  I guess the Xperia I am using is wasted on me after all 🙂
What did the site recommend for you?  Let us know in the comment section.
Source: Indianwebstartups.com.