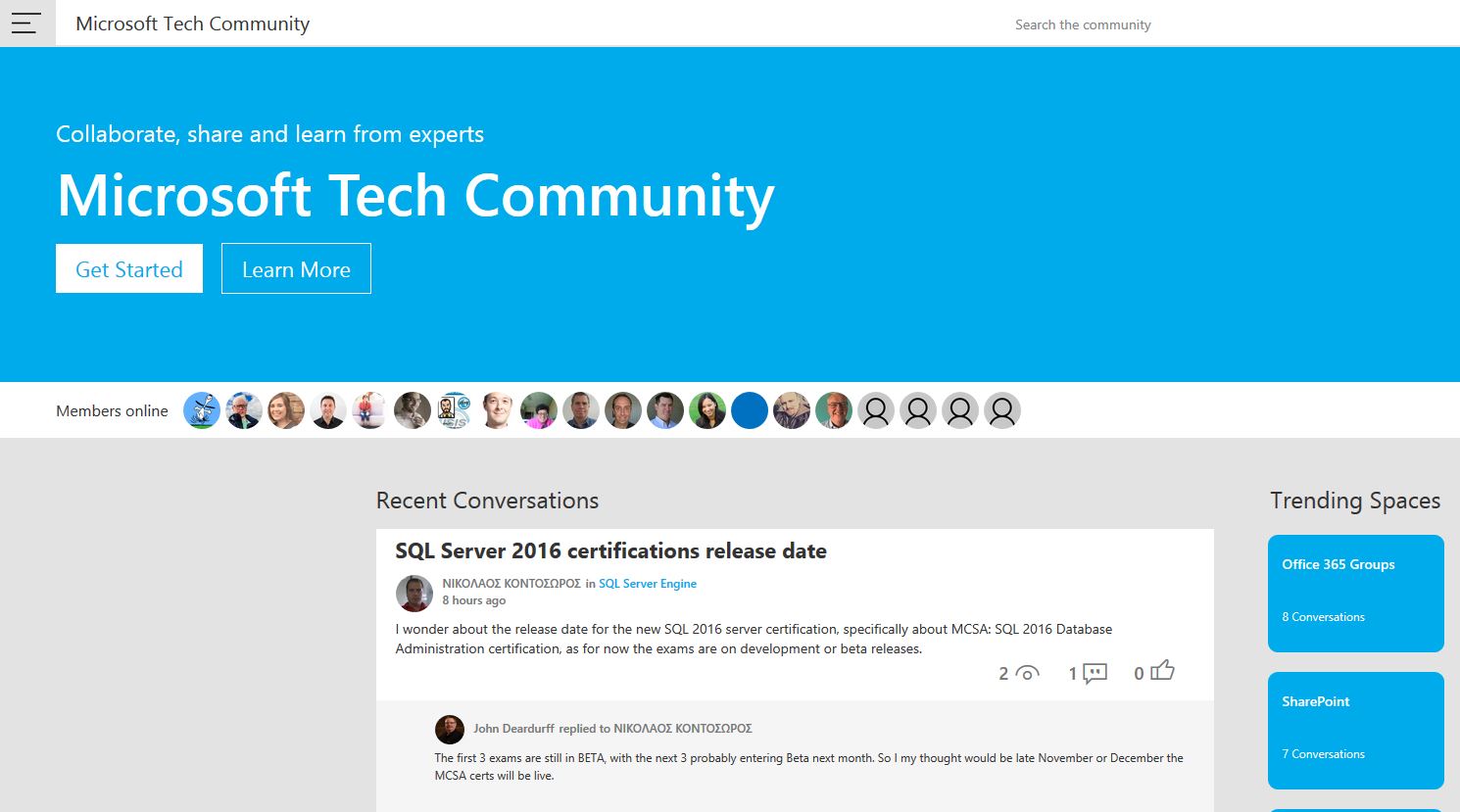 Microsoft has recently launched the new Microsoft Tech Community, bringing multiple IT Pro communities together in one central location to support discussions and best practice sharing across a variety of Microsoft products and services. For now, they are moving the existing Office 365 Network on Yammer to this new Microsoft Tech Community and in future it will also support Azure, Windows Server, and SQL Server Communities.
New features:
New Navigation Menu that reflects all of your favorite spaces, making it easier for you to navigate from space to space.  Spaces can be discussions, blogs or idea exchanges and when favorited will appear here.
Microsoft Ignite Community page launched: https://network.office.com/t5/Microsoft-Ignite-Conversations/bd-p/IgniteCommunity

Discussions about Microsoft Ignite are happening here: https://network.office.com/t5/Microsoft-Ignite-Conversations/bd-p/IgniteCommunity
Coming soon: Discussion threads for each session!  Make sure you favorite the Microsoft Ignite Content space to stay up to date on the latest sessions!
You can find the Microsoft Ignite Community Page via the new navigation menu under 'Events'.  In our roadmap, this Events landing page will house more than just Microsoft Ignite but in the lead-up to the September event all our events efforts will be focused on Microsoft Ignite.

New styling applied to Avatars.  Colored rings indicate different community roles:

'Red' = a MTC (Microsoft Tech Community) Community Manager
'Blue' = a Microsoft Employee
'Green' = a Microsoft MVP (Most Valuable Professional)

Profile Hovercards activated when hovering over a member's avatar so you can easily see which organization they belong to and what their activity is on the MTC

A 'Follow' button will be applied soon and we are working on a 'People' section to help you manage your networks and feeds from the people you follow in the MTC

Toggle between Blogs and Discussions in Communities: While we don't have blogs everywhere in the community yet, we are supporting the concept of blogs in the community.  This will be where Microsoft Product Experts will be sharing product news, insight into how Microsoft products work and best practices they've observed.  'Favorite' Blog spaces to power your feed in your Home Page.
The URL of the new community will change soon to http://techcommunity.microsoft.com and redirects will be in place for any existing URL on the http://network.office.com domain. In the future, they will add new features like the ability to 'Follow' users via a button on their hovercard, refinements for threading and whitespace in conversations for desktop and on mobile and more.
Why they are moving away from Yammer?