In an email to Windows Developers, Microsoft today announced that the company will be decreasing revenue sharing for app purchases made with Windows Store gift cards or Xbox gift cards. Yes, if one of your customers buys your app from the Windows Store with a gift card, the revenue sharing will be decreased slightly. Microsoft says the company is adding the Commerce Expansion Adjustment to the app and in-app product purchases made with gift cards due to "packaging costs" and "revenue sharing with channel partners".
The Commerce Expansion Adjustment will affect app purchases in more than 40 markets, including Argentina, Australia, Austria, Belgium, Brazil, Canada, Chile, China, Colombia, Czech Republic, Denmark, Finland, France, Germany, Greece, Hong Kong, Hungary, India, Ireland, Israel, Italy, Japan, Mexico, Netherlands, New Zealand, Poland, Portugal, Russia, Saudi Arabia, Singapore, Slovakia, South Africa, South Korea, Spain, Sweden, Switzerland, Taiwan, Turkey, United Arab Emirates, United Kingdom, and the United States in March 2016 ar a rate of 2.24%.
Here is the full email: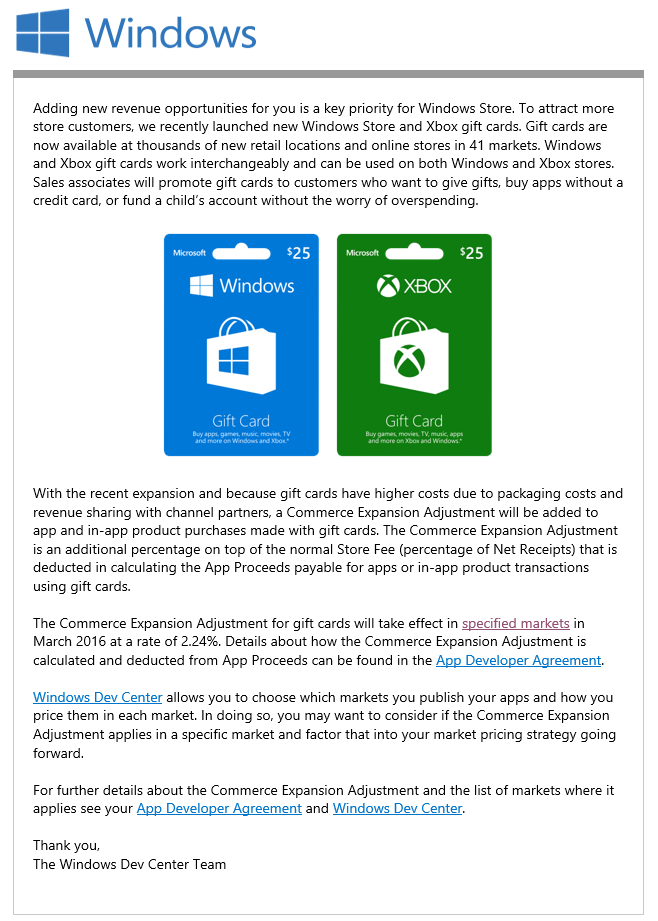 Of course, this may have a pretty major impact on some developers' apps. But, 2.24% isn't really huge, so I assume most developers won't have any issues with the upcoming Commerce Expansion Adjustment. Nonetheless, if you are a Windows developer, tell us what you think of the upcoming changes in the ocmment section below.