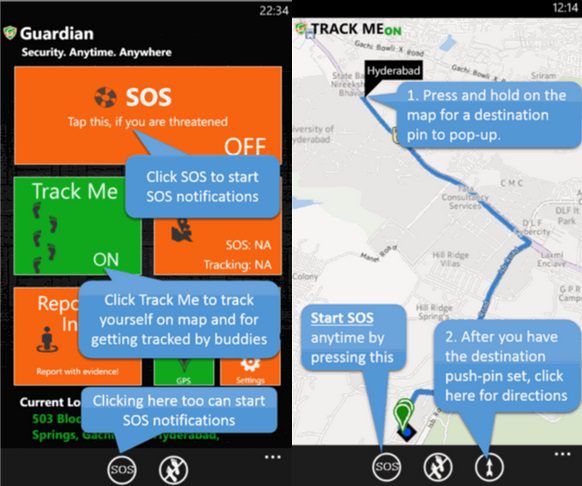 Microsoft India today released a new safety app called 'Guardian' for Windows Phone devices. It is mainly focused on women safety. This app comes with a real-time tracking and intelligent SOS alert function, a call for help and recording the evidence of attack, this application helps to pose an effective deterrent to the perpetrators of these crimes, and to help fight against these injustices. The app helps women in distress by alerting their friends, families as a standalone app, as well as it is available as an integrated solution for Police or security agencies who can monitor distress SOS calls and provide help through a portal.
It offers some neat features which are listed below,
Easy Set Up:
Four swipes to set-up your account
Highly configurable SOS settings
One click account restore on a new device
Ensures privacy of the buddies and allows them the control to opt-out, if need be
Real-time Self tracking:
Searches the destination and finds the shortest route
Tracks the path on the go
Real-time tracking trail stored in cloud
Optimized algorithm to reduce battery consumption while tracking
Intelligent SOS:
Regular SOS alerts to buddies and security agencies
SOS continues even after the phone is destroyed
Email and SMS's with location and tracking trail for buddies
No GPRS (Internet): Start SOS through SMS
On turning OFF SOS : Safety Message is delivered automatically
The tracking trail and SOS photos saved in cloud for evidence
Integrated Social Media:
SOS signals broadcast to Face Book Buddy List
Private posting to Face Book group
Real-time tracking trail to follow and provide help
Continue reading the features and find download link after the break.
Local Help:
One click Emergency Calls (Police, Hospitals, Fire)
Find nearby Police stations and hospitals
Route and turn-by-turn navigation for Local Help on the phone
Local Buddies:
Track people who have added you as their buddy
SMS based tracking: Real-time tracking on any web enabled phone
Get directions and shortest route for your buddies
Real-time tracking by security agencies:
Real-time monitoring by Security agencies
Individuals can be tracked by respective organizations
Incident reporting like tease, ragging etc. along with evidence, saved in cloud
Security agencies can send Police/Medical Help when on SOS
Security agencies can assign Rescue Marshals
Download the app here from Windows Phone Store for free.