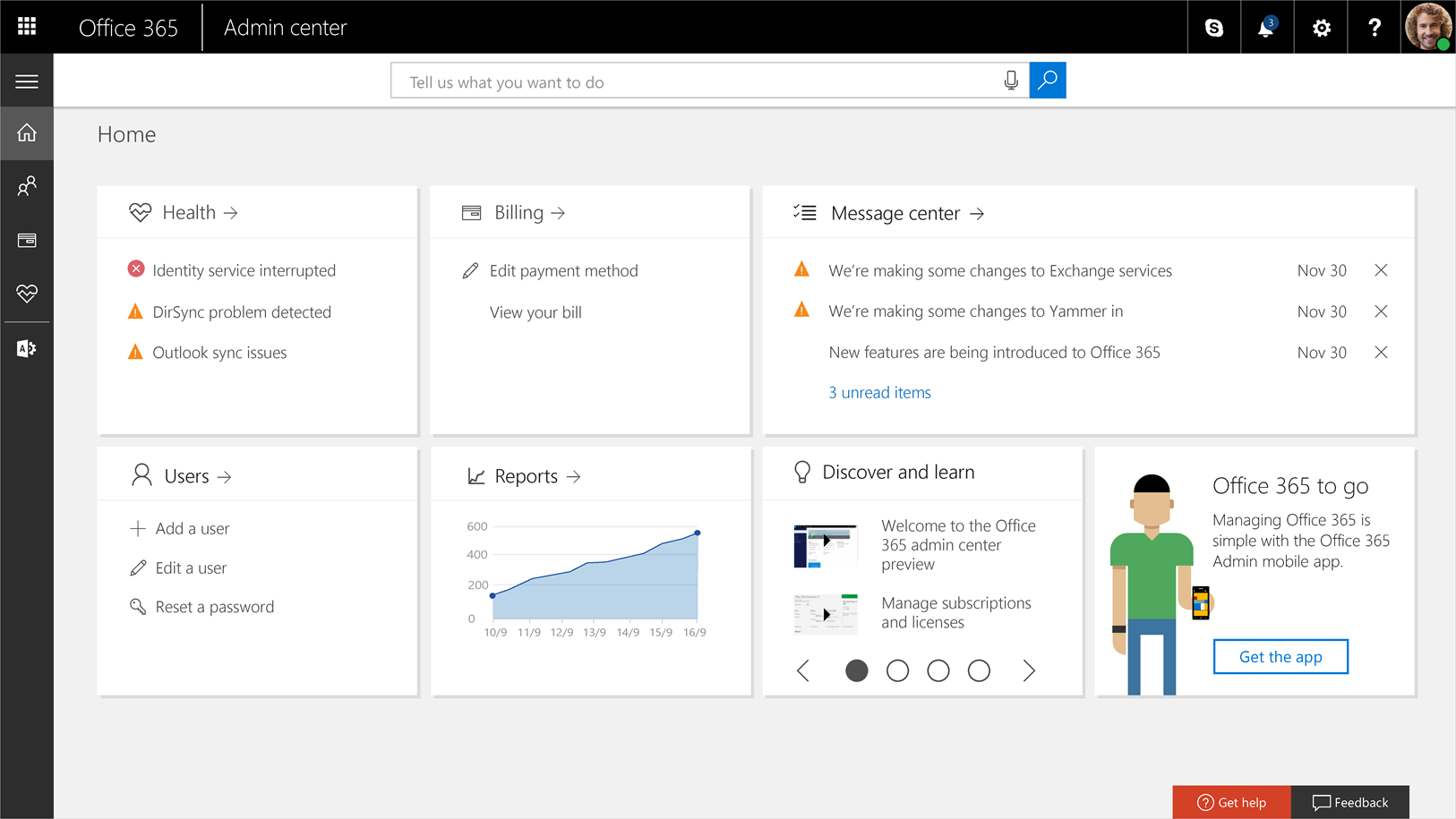 Microsoft is continuously making improvements to Office 365 admin center to make it faster and easier.  Today, Office team highlighted the latest updates, including improved search, new usage reports and additional user list management functionality. Read the summary below.
Quickly find what you're looking for with expanded search—In addition to users and groups, you can now search for tasks, settings and pages. The improved search at the top of the home dashboard makes it easy for you to quickly get to any feature you're looking for. Some of our first release customers have even shared the feedback that they love the search so much they use it more than the regular navigation now. Try it out!
Monitor your Directory Synchronization status—We added a new tile to the dashboard that makes it easy for you to see the status of your Directory Synchronization (DirSync). The tile shows important information such as last sync time, possible issues and information on how to troubleshoot. Only customers who have DirSync set up will see this tile.
Understand how your users are using Office 365—The new usage reporting portal provides you with valuable insights about how the Office 365 services are being used in your organization and delivers details down to the individual user level. The first reports available focus on active Office 365 users, email activity and Office activations. As of last week, the rollout of additional reports providing insights on SharePoint and OneDrive site usage and Yammer and Skype for Business activity have started.
Get more information about your users and manage user lists more efficiently—The user list now includes information about which licenses are assigned to a user. To access additional details such as "Date of last password change" or to further filter and analyze the user data, you can now export the whole user list into a CSV file. Also, you can now bulk import users through CSV as well.
Microsoft also updated Office 365 admin mobile apps. Read about it here.