Click here for part 1
3. Windows Phone Studio
The new IOS 5 will include the iCloud  service with allows easy syncing of IOS devices. The old  Windows Mobile had a great online component called My Phone. With it, you could…
synchronize your contacts, calendar appointments, tasks, photos, videos, text messages, songs, browser favorites and documents between your phone and your My Phone web account.
Then came the Kin Studio, a revolutionary cloud service that accompanied the short-lived Kin Phone. I hope that Microsoft will bring this back in the form of "Windows phone Studio."  This would include all the features that existed in the My Phone service like lost phone tracking in this new service. I also hope they integrate the Office Web Apps, Office 365, SkyDrive, and Live Mesh Synching capabilities. Something that the Skype purchase could bring is text messaging (as a premium addition perhaps) to cell phones and land lines directly from the the web interface. Adding Xbox live account management, Zune pass streaming, podcasts and Zune social would be a good bonus!
I also would like to see the the Kin Studio UI maintained rather the stale Windows Live UI. With this, Windows phone will be well ahead of Android and IOS when it comes to the cloud component (especially the ease of use) of mobile devices which I believe will be an integral part of the industry going forward.
4. Better hardware
We already know that there are  new devices coming from Nokia, Samsung, HTC, Fujistu, and more. One thing that has been frustrating about the current WP7 hardware is the lackluster nature of the offerings compared to their Android counterparts. Since the OS does not officially allow removable Micro SD cards, I would like to see 32 and especially 64 GB options of devices available from all OEMs. Add to that, I hope that front facing cameras will become standard (The Skype purchase should make video calling more viable now in addition to messenger and Lync).The last three features, though not pressing, would be highly welcome; "real buttons " for "back" "home" and "search" instead of capacitive ones, inductive charging ala Palm Pre Touchstone and finally NFC support.
5. Expanded Marketplace Bing services with feature parity to the US
Many of our international readers complain and rightly so about the lack of certain features (Zune pass, Videos, Bing Search etc.) found only in the United States. The new App Hub update promises to expand the the marketplace for developers in more countries, I hope will this translate to missing services being made available to all these regions also as per Microsoft's WP7 head, Joe Belfiore tweet in that regard. They  have been signs reported earlier that consumers in Australia will soon be able to purchase music from the Zune marketplace. This needs to carry over to allcountries where WP7 devices are sold.
6. Windows Phone website.
I hate having to bring Apple into the discussion over and over again, but I can't deny the fact that they are good at making their products easily understandable to the average consumer through their marketing. Compare the Windows Phone and the iPhone landing pages below. Right out the bat, the iPhone site is bold, more attractive and informative than WP7.  Microsoft could do so much better because they  have the power of the Metro UI design on the side, they just need to apply them better on the website.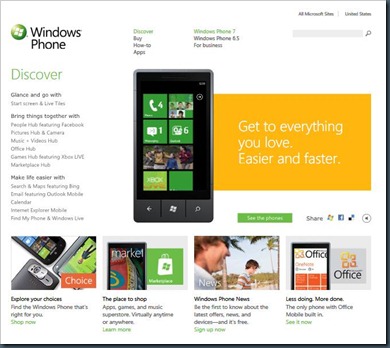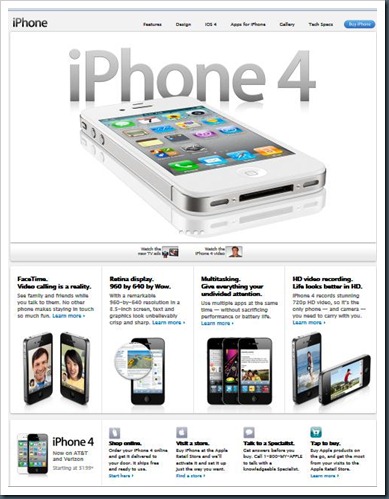 I have just gone through what I think Microsoft can do to battle the formidable task ahead of them in the mobile space with the upcoming release of Mango. It is by no means exhaustive, but I believe that Microsoft needs to make some serious proactive steps this time around in order to give Windows Phone a fighting chance.  What do you guys think?