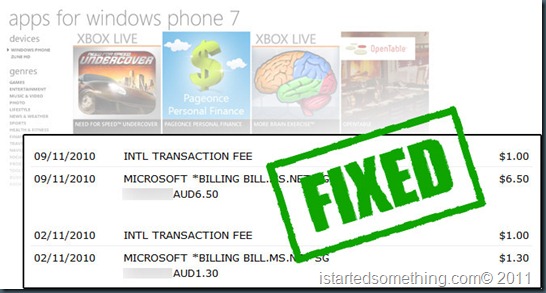 Long Zheng of istartedsomething.com is reporting that Microsoft, has finally fixed the issue whereby app prices were higher in international markets, than they were in the US for the same app. From the blog
As suspected, the root cause was that Microsoft didn't have payment processing facilities in a number of regional markets around the world to handle credit card transactions locally. In Australia's case, these transactions were previously processed in Microsoft's Asia Pacific hub, Singapore. Instead, now they are processed in Sydney as "MICROSOFT *WIN PHONE NORTH RYDE".
Not all users were affected since some credit cards or bank accounts somehow escaped the tax. This is a win for international users in the sense that  they have moved up into parity with their US counterparts at least in one area, and hopefully the beginning of an avalanche in regards to other features.