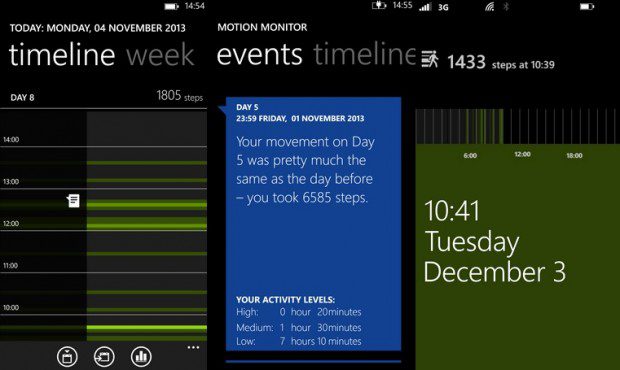 Back in December last year, Nokia released a new beta app for Lumia 1520 devices called Nokia Motion Monitor via Nokia Beta Labs. As the name suggests, this app tracked your physical activity based on your motion and steps. This app runs in background continuously consuming very little power and you can have updates on your lock screen, glance screen as well as on a live tile. Microsoft today announced that they are ending the beta as the final product is already made available to users via SensorCore SDK.
As a beta, this app previewed some of the capabilities of Lumia SensorCore technology and helped us to fine-tune the SensorCore SDK, now available for app developers.

With SensorCore technology, any app (not just Motion Monitor beta) can access pedometer and activity data that supported devices are able to collect.  Bing Health & Fitness is one of the first examples.
Lumia 1520 and Lumia Icon devices will get support for Lumia SensorCore technology through the Lumia Cyan software update and other latest Lumia WP8.1 devices like Lumia 930, Lumia 630, etc, will support it out of the box.
Source: Beta Labs