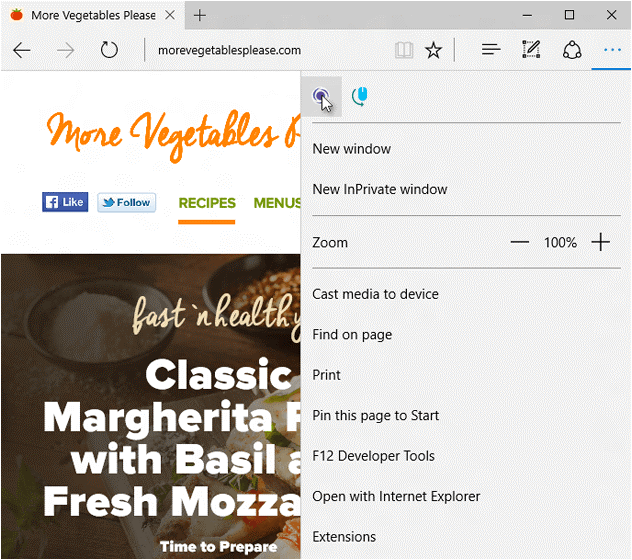 Microsoft today released Windows 10 build 14291 to Windows Insiders with first preview release of Microsoft Edge with extensions support. Apart from Extensions support, this build of Microsoft Edge includes several other changes. Find the changelog below.
New Desktop features:
Extensions: Extensions are now available to preview in Microsoft Edge. Check out our blog post announcing extensions to learn more or download sample extensions at our new extensions page.
Pinned tabs: Pin tabs to keep your most-used sites and web apps available. To pin a tab, right-click on the tab you want to pin and choose "Pin tab". To unpin a tab, right-click on the pinned tab you want to unpin and choose "Unpin tab". Pinned tabs always appear at the start of the tab row, and only showing the site's icon. Pinned tabs don't show a close button, so you won't accidentally close them. Pinned tabs that are in your Microsoft Edge window when you close the app will come back the next time you open Microsoft Edge.
Paste and go: Copy any link into your clipboard, right-click in the address bar, and choose "Paste and go" from the context menu. Edge pastes the URL into the address bar and navigates to the site. If you copy something other than a link to your clipboard, you will instead see a "paste and search" option.
New Mobile features:
Fixed an issue where links from other apps like Cortana or Mail sometimes wouldn't load the page in Edge.
Increased the size of the close button for tabs in the Tab Center to make it easier to close tabs, especially on devices with a larger screen size.
New Web Platform Features:
Preview support for the VP9 video format on some devices. This feature is automatically enabled or disabled depending on the device's support for hardware acceleration. You can change this setting in about:flags.