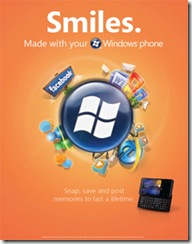 Microsoft is using the online add agency Zooppa to source ads from freelance contributors for the launch of Windows Mobile 6.5.  The winners would earn a cumulative $14000, with submissions closing 5 October 2009.
Contributors would be able to chose their medium, with video, graphics, banners, radio spots and even screenplays being available.
Currently the proposal is only available on Zooppa's italian website, but it is expected to eventually go global.
Presumable they are looking for something cool like this Microsoft ad embedded below:
[flv:http://d3pqlvx29u0inx.cloudfront.net/videobriefs/75/original.flv 640 483]
Read more at Zooppa here. (Italian).