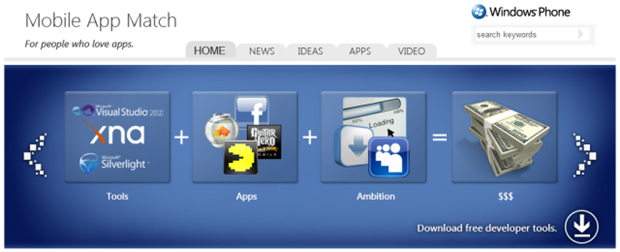 Microsoft is committed to a well-stocked Windows Phone 7 marketplace at the launch of the OS, and to facilitate this they have created a website to bring together developers and potential Windows Phone 7 users.
We're bringing the people who build Windows phone apps together with the people who seek them for personal use—to start conversations, exchange ideas, and see what develops. Your activity will help guide starter ideas from first blush to finished products available on Windows Marketplace.

If you're a developer building apps for Windows phone, you could spend months on a project only to find out the idea's taken. Or wake up to a concept that was never fun, smart, or sexy enough to begin with.

If you're seeking apps for your own Windows phone, you know what you want. An app you can really connect with. Not too buggy. With a nice interface.

Builders, meet seekers.

Seekers, meet builders.

Together with Mobile Match, you can finally find the idea or app that was made for you. All at your own pace. We're regularly updating the blog, idea, and video pages with the latest news and RSS feeds, so you have plenty of content to come back to.

What builders can do:

– Post apps and videos to get feedback and promote work

– Vote on new ideas and finished apps

– Read seekers' comments and learn their interests

What seekers can do:

– Post ideas and videos to influence mobile app builders

– Vote on new ideas and finished apps

– Connect with skilled builders and find their latest apps
Users can submit their ideas, developers can connect with them, and together they can create new WP7 apps. At present there are already a collection of nice ideas, from the complex ones like a Skydrive client to simple, easy to code ones which can make developers easy money, such as the colour teacher to help parents teach young children the names of colours.
Read more and submit your own feedback to developers at the website here.
Via Liveside.com