The number of mobile related patents that were granted by the USPTO and the EPO increased significantly over the course of last decade. In fact, the US market saw a stunning growth of 440% while the European market saw a 71% increase in mobile related patent grants. For the first time, over a quarter of all patents granted in the US were mobile related. Chetan Sharma Consulting analyzed the patents granted to the top 65 technology companies who are active in the mobile space to understand their relative strengths and weaknesses in the mobile patents landscape.
Microsoft continues to be a strong player in mobile. They maintained their position as No.4 in the total mobile patents granted in 2014 and they are ranked No.4 in overall patent filings in 2014 also. Overall, they remain in Top 5 in the mobile patent market. In fact, they are ranked No.2 in the OEM with the strongest patent portfolio.
Take a look at the mobile patent portfolio strength based on number of patents.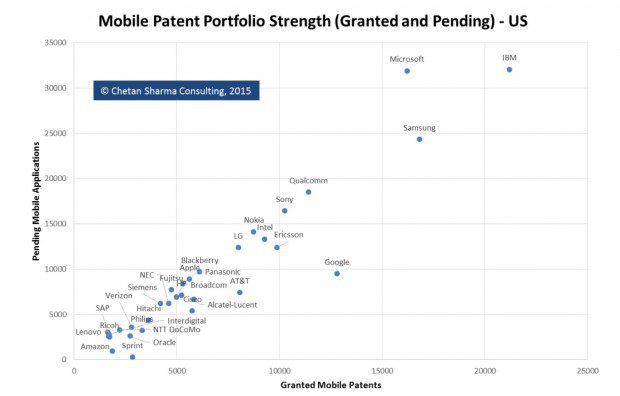 Hopefully, Microsoft will be able to capitalize on their strong IP asset in the mobile space.
Source: Chetan Sharma Consulting