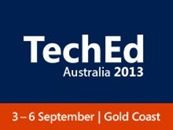 At TechEd Australia Microsoft confirmed continuing good growth of the Windows Phone ecosystem.
They confirmed the Windows Phone app store now has 170,000 apps covering 191 different geographical markets and 50 plus languages and that there was a steady increase in app revenue.
Windows Phone apps were recording increased usage with users having an average of 53.2 apps per device vs 80 on iOS and only 35 on Android. Average revenue per app was $1,528 against Android at $1,456 and iOS at $1,800.
Dave Glover, Microsoft Phone evangelist said "Windows phone is moving from a solid contender to a compelling leader – it is part of a growing Windows ecosystem."
He said Windows Phone now outsells BlackBerry in 31 markets and iPhone in 10 market and that Windows Phone's largest market is China.
Nokia's Nick Abott also said the corporate market was embracing the Nokia Lumia 520 for enterprise fleet replacement. "You can get four of these for the price of one iPhone and the 4.7", 4G, $350, 625 is selling truckloads as well."
Of course it remains to be seen if this momentum will continue post the purchase of Nokia's handset unit, but it is likely that we will not have to wait too long to find out.
Via ITWire.com