South Africa is one of the 7 markets in which Windows Phone outsells the iPhone, and now Gustavo Fuchs, Windows Phone head for the Middle East and Africa has revealed exactly what this meant for its market share there.
Windows Phone only had 2% market share in 2011, but now boasted a 10% share, helped by the introduction of the new Windows Phone 8 software in November, Fuchs said.
The progress has left Microsoft pretty confident there also, with Microsoft aiming to be the No 1. OS in the region by 2016, helped by handsets at a range of prices and a variety of OEMs.
"With a low-smartphone-penetration market, Windows Phone has a bigger chance to be the first smartphone for users," Fuchs said. "The smartphone snowball effect has started."
Fuchs expected Blackberry, which is the dominant platform in South Africa, to continue to lose market share due to its Blackberry 10 transition and the growth of over the top messaging  applications like WhatsApp. In 2012 Blackberry had 51% market share and Android 32%.
Microsoft is also planning to target other markets in Africa like Kenya and Nigeria.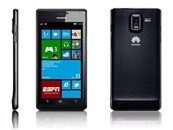 He notes Nokia's Lumia phones sold out when it went on sale in Kenya in February.
"Kenya is important as a hub, not a single market," he said. "We might have some challenges in terms of GDP, price point of devices, but it could be the cultural driver of East Africa. Everything that happens in Kenya gets expanded into Tanzania or Uganda."
Microsoft has an initiative with Huawei to release the Huawei 4 Africa, a version of the Huawei Ascend W1, in Kenya, and the device has just been announced for sale on the 8th for KES 15,999 ($190) on Safaricom there, with 500 MB of data included. The device is coming to Nigeria also.
"It's not about us competing with other smartphones," Fuchs said. "It's about us showing to people that smartphones are a better choice than feature phones."
Read more at Bloomberg here.
Thanks Arun for the tip.