The New York Times reports on a rumour that Microsoft may be looking to acquire Canesta, a company which for the last 11 years have been develops chips which allow Kinect-type gesture detection at a low price and with minimal equipment.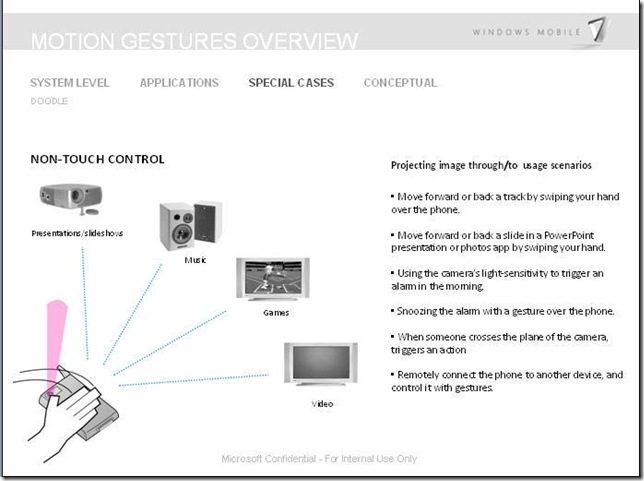 Canesta's latest chip allows 320×200 resolution, is about the size of a silver dollar, and can be built into mobile devices.
Microsoft's Kinect technology is currently being powered by PrimeSense, a direct rival of Canesta.
Last year, Microsoft acquired 3DV systems, a company with similar gesture recognition technology, and Microsoft has said they plan to move gesture recognition well beyond just playing games. Long time readers may recall Windows Mobile 7 was originally rumoured to include a camera-based gesture interface.
With multiple purchases in this market segment Microsoft may be building up a collection of Natural User Interface patents which may help Microsoft keep the technology exclusive to its mobile and desktop ventures.
Read more about the rumour at New York Times here.
Edit: Purchase is now official.  See the Press release after the break.
SUNNYVALE, CALIFORNIA – October 29, 2010 – Canesta, Inc. today announced that it has signed a definitive agreement to have its products, technology, intellectual property, customer contracts, and other resources acquired by the Microsoft Corporation. Canesta is a leader in 3-D sensing technology which is critical to making Natural User Interfaces (NUI) possible.

According to Jim Spare, Canesta president and CEO, "This is very exciting news for the industry. There is little question that within the next decade we will see natural user interfaces become common for input across all devices. With Microsoft's breadth of scope from enterprise to consumer products, market presence, and commitment to NUI, we are confident that our technology will see wide adoption across many applications that embody the full potential of the technology."

Canesta is the inventor of a leading single chip 3-D sensing technology platform and a large body of intellectual property. With 44 patents granted to date and dozens more on file, the company has made breakthroughs in many areas critical to enabling natural user interfaces broadly across many platforms. Some of these include the invention of standard CMOS 3-D sensing pixels, fundamental innovations in semiconductor device physics, mixed-signal IC chip design, optics, signal processing algorithms, and computer vision software.

No details of the agreement have been disclosed. The acquisition is expected to be completed before the end of this year.

About Canesta
Canesta (www.canesta.com) is the inventor of revolutionary, low cost electronic perception technology and leading provider of single chip CMOS 3-D sensors that fundamentally change the relationship between devices and their users. This capability makes possible true 3-D perception as input to everyday devices, rather than the widely understood 3-D representational technologies as output. Canesta's 3-D input technology, based upon tiny, CMOS 3-D imaging chips or "sensors", enables fine-grained, 3-dimensional depth-perception in a wide range of applications. Products based on this capability can then react on sight to the actions or motions of individuals and objects in their field of view, gaining levels of functionality and ease of use that were simply not possible in an era when such devices were blind. Canesta's focus is on mass market consumer electronics, but many applications exist in other markets as well. Canesta is located in Sunnyvale, CA. The company has filedin excess of fifty patents, 44 of which have been granted so far.

All trademarks and registered trademarks are those of their respective companies. The omission of a trademark or registered trademark symbol is inadvertent and is not intended to convey the status of any mark or contravene any claim.