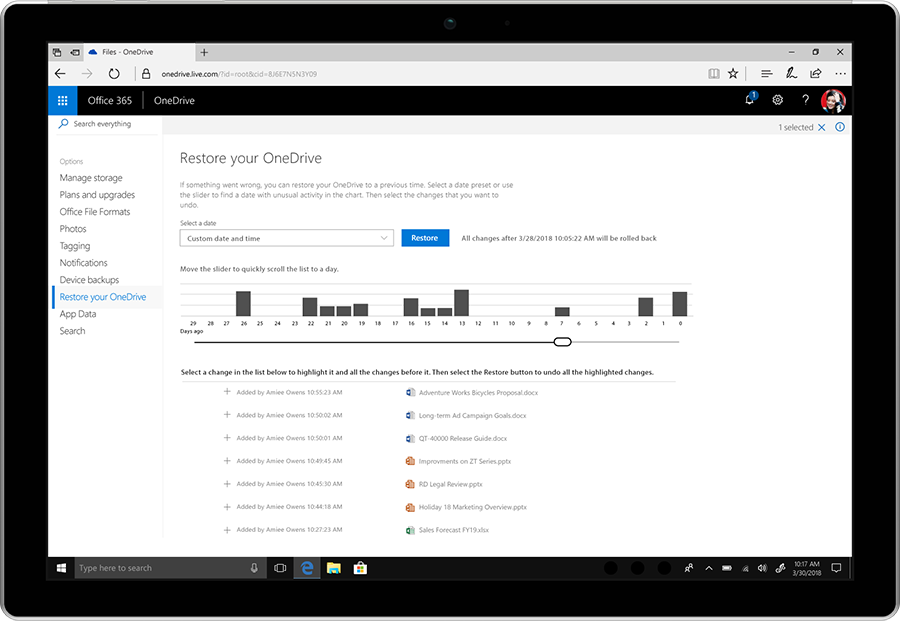 Microsoft today announced advanced protection capabilities coming to Office 365 Home and Office 365 Personal subscribers. Microsoft is bringing the popular File Restore feature to OneDrive personal account users, previously it was available only to OneDrive for Business customers. Files Restore feature will allow users to restore their entire OneDrive to a previous point in time within the last 30 days.
Here's how this feature works:
To use Files Restore, all a user needs to do is choose Settings and then Restore OneDrive
Users are presented with a histogram showing file activity over the last 30 days with an intuitive slider to "rewind" those changes.
They can then easily select the file or files to restore from that point in time.
The user then is prompted with a date range as well as the number of files to restore. The user chooses to restore and the files are then restored back into the users OneDrive.
Microsoft today also announced the new ransomware detection & recovery feature for Office 365 users. Microsoft can now detect ransomware attacks and help users to restore their OneDrive to a point before files were compromised. When an attack is detected, Microsoft will alert the user through an email, mobile, or desktop notification and guide them through a recovery process where they will find the date and time of attack preselected in Files Restore.
To help Office 365 users in keeping their information secure and private, Microsoft is announcing three new capabilities.
You will now be able to set and require a password to access a shared file or folder. This prevents others from accessing your files if your intended recipient accidentally forwards or shares the link.
Email encryption in Outlook.com offers an added layer of protection and ensures end-to-end encryption of your email.
You can now restrict your email recipients from forwarding or copying emails you send from Outlook.com. Additionally, Microsoft Office documents you attach to these emails are encrypted even after downloading, so if the recipient shares or forwards your attachment, the recipient of the forwarded email will not be able to open the attachment.
Microsoft is rolling out ransomware detection & recovery and Files Restore feature starting today and will be available to all Office 365 subscribers soon. Password protected sharing links, email encryption, and prevent forwarding will be rolled out in the coming weeks.
Microsoft today also announced that they are going to bring Advanced link checking in Word, Excel, and PowerPoint. Once this feature is enabled, when you click links in Word, Excel, and PowerPoint, links will be checked in real-time to determine if the destination website is likely to download malware or if it's related to a phishing scam. This feature will be coming the second half of 2018.
Source: Microsoft