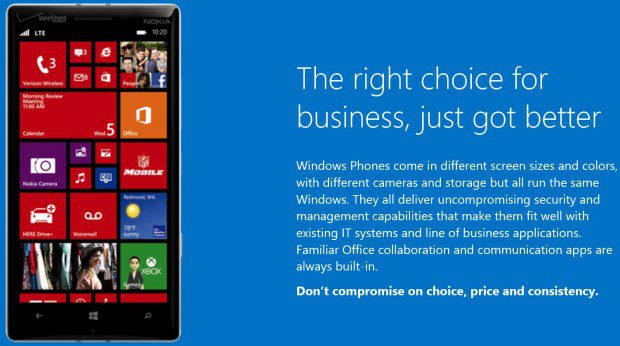 Occasionally Windows Phone sceptics will ask how Windows Phone is better than iOS or Android.
If you ask Microsoft product manager Chris Hallum one of his answers would be that the OS is more secure, and that  iOS and Android's security  is not good enough for most businesses' needs.
V3.co.uk reports on a recent interview, where the product manager said Windows Phone was clearly superior.
"We view security as a differentiator for our Windows Phone 8.1 platform. Windows Phone is very resistant to malware. Part of this is due to the store policy we use. A big battle protecting customers is working to ensure malware doesn't get into the ecosystem," he said.
"If you want to keep malware off your platform you have to pre-vet the applications coming onto it. Google doesn't do this and that's why Android is significantly more targeted."
Of course with 99% of mobile malware targeting Android, it is no surprise  Windows Phone is more secure than that wide-open OS, but what about the iPhone.
Chris felt iOS was full of hidden holes which Apple was simply not disclosing, saying Apple's ongoing refusal to disclose security issues, or share threat data, undermines its enterprise security credentials.
"I definitely think talking about security is a selling point. Talking about security at a detailed level is what customers want to hear," he said. "It lets them feel assured and ask sensible questions that help us further improve our platform's security." Referring to Apple, he said "This is a lot better than just not saying anything until after an incident occurs."
Most would say Windows Phone's low level of malware was due to its much lower installed base, but Chris believed this will continue even as Windows Phone gets more popular.
"Windows Phone 8.1 is a breakthrough moment for us in the enterprise and we've taken appropriate measures to ensure it remains secure as its popularity grows," he said.
Via V3.co.uk