Microsoft is often painted as a company in terminal decline, despite regularly posting profits in the billions.
The latest challenge to face the company has been a 14% hit in PC sales in the last quarter. It seems however Microsoft has been pretty successful in being more than just Windows and has beat analysts expectations.
Microsoft has announced CY Q1 2013 revenue of $20.51 billion and profits of $6.06 billion, up 18.5 percent YoY.
This beat analyst expectations of 68 c per share by 4c, delivering 72c per share.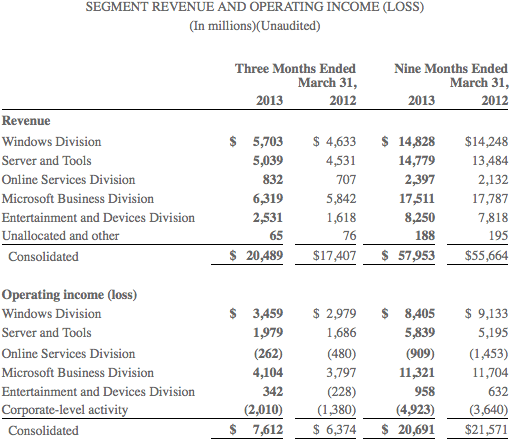 Of course I don't expect much of this is coming from Windows Phone, in fact Windows Phone revenue was only $259 million, driven by patent licensing revenue and increased sales of Windows Phone licenses, but it does show there is life in the old dog yet, which is all Windows Phone needs to fight another day.
Microsoft shares is up 1% after hours.