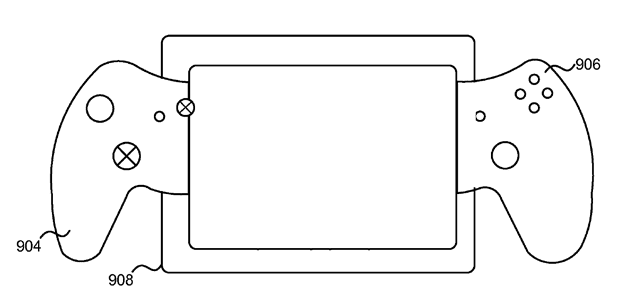 Microsoft has applied for a patent for an external clip-on controller very reminiscent of MOGA's Bluetooth game controllers.
In their abstract they claim:
A set of reconfigurable clip-on modules for mobile computing devices includes two or more modules and at least one of the modules has an input button or other control and at least one of the modules can communicate with the computing device without needing to be connected to it via a wire. The input button is mapped to a user input in a program, such as a game, which is running or displayed on the computing device to which
the modules are clipped. In an embodiment, user inputs via the buttons or other controls on the clip-on modules are mapped to user inputs in a game running on the device, which may be a touch-screen device, and the mapping between user inputs via the buttons and
user inputs in the game may change dependent upon the game being played, user preference, or other criteria.
The patent does not appear to make any novel claim, making the application somewhat odd, but hopefully it suggests a direction Microsoft is thinking of expanding Windows Phone to.
See the full patent here.