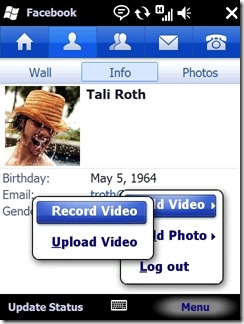 Furthering its vision to connect the PC, Web and phone, Microsoft Corp. today announced strong industry support for Windows Mobile 6.5 and Windows Marketplace for Mobile as well as new applications for Windows® phones.
Joining a long list of mobile developers, EA Mobile and MySpace announced plans to deliver Windows® phone applications through Windows Marketplace for Mobile. In his keynote address at International CTIA WIRELESS 2009, Robbie Bach, president of the Entertainment and Devices Division at Microsoft, will introduce an alliance with two prominent design houses through which fashion designer Isaac Mizrahi will demonstrate ways people can customize their Windows® phone to fit their personal style.
"We know it's the experiences that mobile phones can offer to people that really matter," Bach said. "The continued support from the world's top mobile operators, manufacturers and developers means you can choose the Windows® phone, applications and experiences that are right for you. We're excited about what we can offer on Windows® phones combined with our new mobile services."
Companies representing the top-selling categories of mobile applications today signed on to be among the first to offer applications through Windows Marketplace for Mobile. They include AccuWeather.com., The Associated Press, CNBC, Developer One Mobile Software, EA Mobile, Facebook, Gameloft, Glu Mobile, Handmark, Ilium Software Inc., Jeyo Inc., Kinoma, LiteScape, Magmic Games, Melodis Corp., MySpace, Namco Networks, Netflix, Pandora, PhatWare Corp., Resco s.r.o., ShoZu Inc., Sling Media Inc., SBSH Mobile Software, Spb Software, Web Information Solutions Inc. and Zagat Survey. Resulting applications will provide new and unique gaming, social networking, media, utility and personal productivity experiences for the next generation of Windows® phones. Windows Marketplace for Mobile, available later this year, provides another venue for people to get the applications they want the way they want, right on their phone. Current Windows® phone users already have access to more than 20,000 applications through multiple distribution partners.
"EA Mobile develops some of the world's most fun and advanced mobile gaming applications, and we understand the importance of product quality and consumer discovery as keys to success," said Adam Sussman, vice president of Worldwide Publishing, EA Mobile. "With Windows Marketplace for Mobile, we are excited to continue our close relationship with one of our most valued partners to offer great EA games to millions of Windows® phone users worldwide."
Customers will have the option to purchase applications on Windows Marketplace for Mobile with a credit card or have charges appear directly on their phone bill. In addition, people will be able to return an application after purchase within 24 hours for a full refund. Microsoft also announced today that developers will now be able to deliver updates to their applications for free* throughout the application lifecycle.
Mobile operators that partner with Microsoft on Windows Marketplace for Mobile also will gain access to a branded section of the catalogue, where they will be able to market their own applications and services to their customer base.
Via Engadget.com