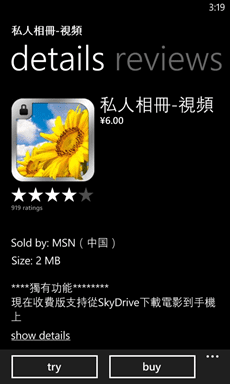 In a blog post Microsoft announced support for Alipay, a Paypal-like network, for Windows Phones in China.
Windows Phone 8 owners in China can now pay for apps or games in the Windows Phone Store with the country's most popular e-payment service. On the phone, customers can make purchases with Alipay or local credit and debit cards. The Windows Phone Store  requires Alipay for all payments.
Alipay payments will not be available for Windows Phone 7.8, who will need to use international credit cards.
Xbox Live games are now also supported in China.
Lastly apps now have a new "sold by" field which appears to be a kind of affiliate system where networks like MSN China, Sina, and Tencent get to sell Windows Phone Store apps, and also bear some responsibility for the support of the apps.
Read more about the new changes at Microsoft here.