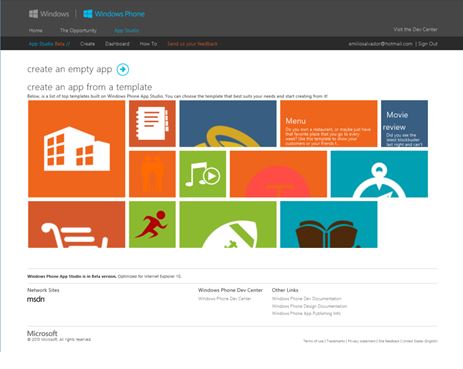 Microsoft today announced some new capabilities for Windows Phone App Studio Beta. This program got well received by the community with   over 55,000 active projects so far since its launch two weeks back. Microsoft is adding following functionality to App Studio beta to improve the overall experience.
Provide connections to additional external data sources;
improving code legibility;
Adding new templates.
Adding Flickr as a data source.
Some fundamental changes to Windows Phone App Studio beta to improve the overall performance and scalability of the system.
You can create your own app within minutes and you will be able to publish the app in Windows Phone Store by creating a developer account.
To help manage demand we've implemented a temporary access code system – just sign up to get your access code and access to the beta. If you need help with access codes, send us an email at [email protected]. We knew this tool would appeal to hobbyists and enthusiasts, but we didn't expect quite so many to jump in so quickly. It's been wonderful to see the enthusiasm.
Read more from the link below.
Source: Windows Phone Dev Blog