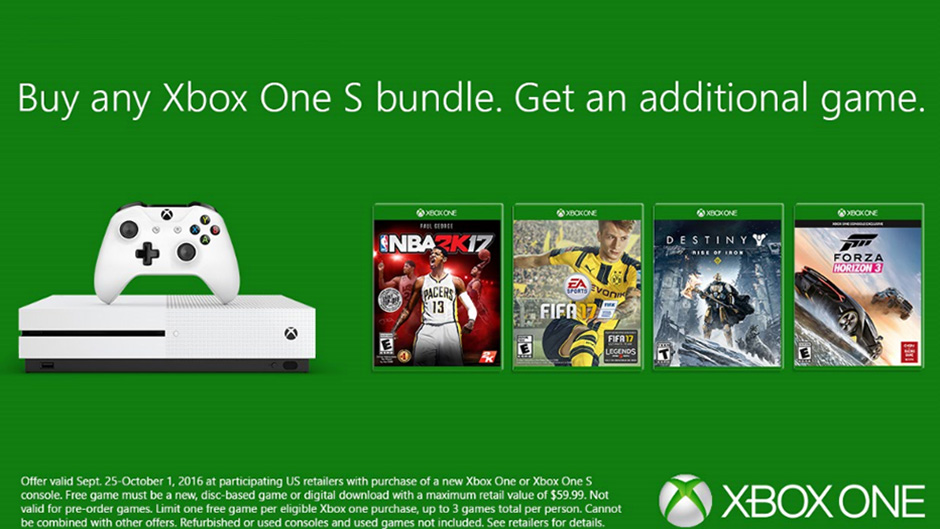 Microsoft today announced a limited time offer in which customers will get a free game of their choice when they buy a new Xbox One or Xbox One S console bundle. For example, you can get the Xbox One S Minecraft bundle and NBA 2K17 for $299 at participating retailers including Amazon, Target, GameStop, Best Buy, Walmart.com, and Microsoft Store. This deal ends on Oct 1, 2016.
Or, if you're a fan of all things football, get the new Xbox One S Madden bundle and add in FIFA for free. Do you prefer shooters? Get the Xbox One S Halo Collection bundle and add Destiny: Rise of Iron for free. Want family friendly? Get the Xbox One S Minecraft Favorites bundle and add in Forza Horizon 3 (sensing a theme?) for free! The beauty is you choose how you want to join the Xbox family.
About Xbox One S,
Play the greatest lineup of Xbox One games and an ever-growing library of Xbox 360 classics on a 40% smaller console. Experience richer, more luminous colors in games and video with High Dynamic Range. Stream 4K video on Netflix and Amazon Video, and watch UHD Blu-ray movies in stunning 4K Ultra HD. Then get the enhanced comfort and feel of the new Xbox Wireless Controller, featuring textured grip and Bluetooth.
Order Xbox One S and Xbox One using the below links to take advantage of this offer,