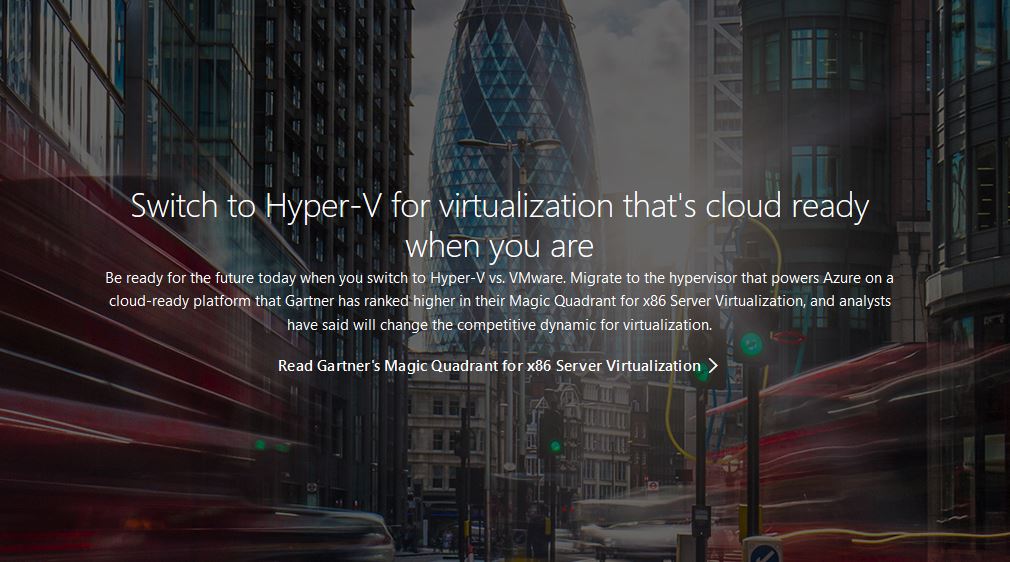 To make more VMware customers switch to Hyper-V, Microsoft is announcing a new VMware migration offer where customers can get Windows Server Datacenter licenses for free when they buy Windows Server 2016 Datacenter and Software Assurance migrating from VMWare. From September 1, 2016, through June 30, 2017, customers who switch from VMware to Hyper-V can avail this offer. Basically, customers has to pay only for Software Assurance which provides benefits including new product version rights, deployment planning, technical and end-user training, support, and a unique set of technologies and services.
Windows Server 2016 and System Center 2016 will be launched next month at Ignite conference and it will bring new security capabilities such as Shielded Virtual Machines, Just Enough and Just in Time Administration along with many other security features as well as new software-defined datacenter capabilities for compute, storage, and networking, such as Rolling OS Cluster Upgrades, Storage Spaces Direct, Storage Replica, the SDN Load Balancer, Network Controller, Distributed Firewall, and the Azure Data Plane for starters.
Right from the start, Microsoft's argument against VMWare always includes total cost of ownership. To make sure the comparison is clear and up-to-date, Microsoft is today launching the Microsoft vs VMware TCO comparison tool, which will calculate the software requirements from Microsoft with Windows Server 2016 Datacenter, System Center 2016 Datacenter, and Operations Management Suite and VMware with vCloud Suite, vSAN, NSX, and vCloud Air Disaster Recovery.
To be eligible for the VMware migration offer, customers must follow these steps:
Step 1: Engage your account executive or sales rep to begin the process.
Step 2: Identify virtualized workloads to migrate and specify the Windows Server Datacenter cores required.
Step 3: Provide your account executive proof of eligibility. (Offer applicable to customers migrating from VMware to Microsoft).
Step 4: Engage your partner to start the migration process.
Step 5: Receive free Windows Server Datacenter licenses with Software Assurance and pay only the cost of Software Assurance to kick start your migration.
Learn more about the migration offer here.