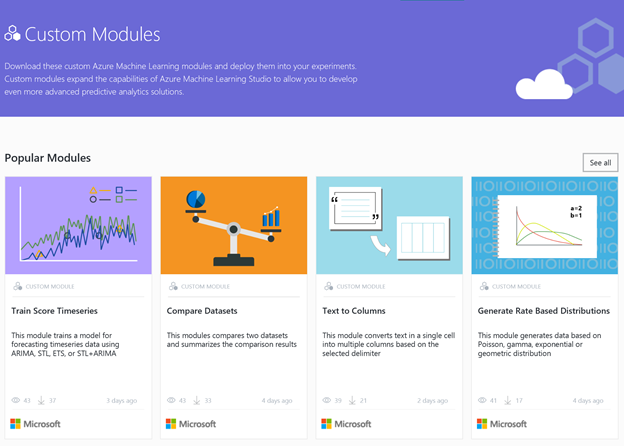 Microsoft today announced the addition of a new resource category in the Cortana Intelligence Gallery, namely Custom Modules. This will the centralized repository for custom modules that community members can use. The initial set of modules included are long-awaited time series analytics modules, super useful association rules module, additional clustering algorithms beyond k-means, exciting visualization modules as well as workhorse utility modules to automate your run-of-the-mill data processing tasks.
Custom Modules in the Gallery deliver five key experiences:
Discover: Browse or search the Gallery to find modules of interest to you.
Understand: Explore detailed module documentation from right within the Gallery.
Import: Add the module (and accompanying sample experiment) to your workspace with one click.
Discuss: Use the Disqus section to ask questions and share feedback.
Share: Share the module with others and give back to the community.
Read more about it here.