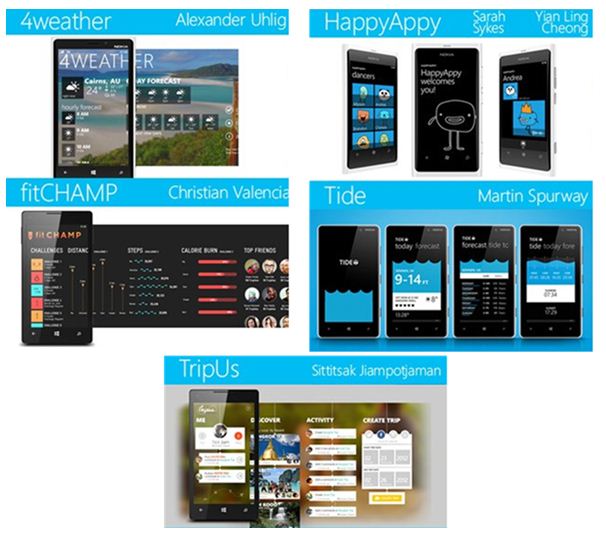 Microsoft and Core77 yesterday announced the five winners of the App to the Future challenge. App to the future challenge involved designing Windows Phone app concepts that helps them connect or delight their future self. Microsoft and Core77 picked 5 winners were picked among 50 finalists who are all eligible to enter phase two of the challenge by developing and launching their app in the Windows Phone store and win a Windows Phone.
Following are the five winners,
4weather—a weather app that lets you zero in what the weather will be like when and where you actually plan to be outside by utilizing a new adaptive forecast feed at its root, an extended and more informative set of "climacons" and finally the choice of the best forecast data vendor for your region.
fitCHAMP—a social fitness app that combines the powerful APIs of the personal fitness trackers that you and your friends use onto a single, beautifully designed dashboard where you can track and compete with your friends through certain metrics like distance moved, steps taken, and calories burned.
HappyAppy—a smile is contagious and what better way to spread a smile than by sharing a dance? HappyAppy is an interactive mobile application that allows friends to connect by dancing for one another when words are not enough. This allows people to virtually connect in a physical and emotional way that is not currently possible.
Tide&a Surfing forecast app that creates a more gestural way of exploring the waves through time whilst allowing fast access to the data that most is important to surfers.
TripUs—connect all your social activities about a trip through one app. Organize all your pictures, Facebook updates, check-ins and tweets into a Trip timeline with invited friends and share information and photos with those friends in your network.
Core77 is also planning to feature a gallery of all the App to the Future app that have been published by the end of May.
Read in detail about the winning designs and list of winners here at Core77 blog.
Source: Windows Blog