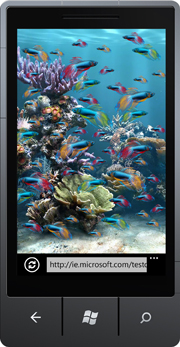 At Mobile World Congress Keynote, Microsoft announced the Internet Explorer 9 for Windows Phone 7 along with many other features to be delivered via update in 2011. The Internet Explorer 9 for desktop Release Candidate( RC) just got released few days back. IE9 is built to take full advantage of the GPU/CPU hardware using hardware acceleration. The same core engine is now going to power IE9 Mobile. So its a great news for developers as well as consumers. Developers won't have to worry on coding for desktop and Mobile separately and consumers can enjoy the full web experience same as the desktop. Also along with the core engine, IE Mobile for Windows Phone 7 will have same security and privacy protections such as smartscreen filter as in IE9 desktop. Joe Belfiore from Microsoft showed the popular Fishtank demo on Windows Phone 7 which runs HTML5 code as smooth as its desktop counterpart.
Dean Hachamovitch, Corporate Vice President, Internet Explorer on IE9 Mobile,
Quality, hardware-accelerated HTML5 on mobile devices will make the mobile Web significantly better. Developers will be able to use the same markup to deliver great interoperable HTML5 experiences on mobile—a for example H.264 video on Windows, iOS, and Android devices, and great CSS3, SVG, Canvas, ECMAScript 5, and WOFF support. Consumers will be able to enjoy these great experiences with great hardware-accelerated performance as well as security and privacy, using Tracking Protection on their Windows Phones.
Source: IE Blog