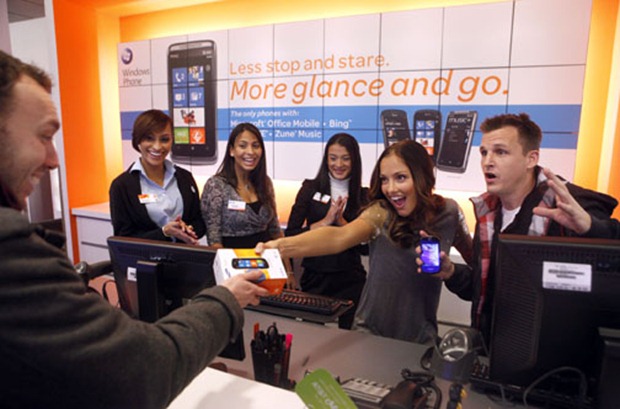 According to a reliable tipster, Microsoft and German carriers are planning to introduce Windows Phone "stores within stores" in carrier retail outlets where Windows Phone is already selling the best.
These "stores" will have a dedicated Windows Phone wall, posters, supporting guidelines and so forth, making it even easier for buyers to pick up a Windows Phone.
Carrier retail outlets who receive these displays will also get special treatment and will be  prioritized with first batch of shipments after device launches, creating in effect reliable Windows Phone locations similar to Apple stores, but without Microsoft having to invest in expanding Microsoft stores to Europe.
Only 4-5 stores per carrier will be upgraded, and given that they will be choosing stores where Windows Phone is already selling well and staff clearly motivated already, it seems a good use of resources and should raise the profile of Windows Phone in general.
The stores should start arriving in July and we should start hearing more about the move in the next few weeks.
We have had an additional anonymous tip saying Microsoft's Depth Partner Support program, which aim to get high profile apps in Marketplace, will be rolling out a number of high quality apps in the German Marketplace over the next week ending June 23rd, presumably to take advantage of the excitement around Windows Phone 8.  Presumably this will also be a world-wide feature, with Microsoft announcing some high profile apps on stage on the 20th also.
What do our readers think about this move? Let us know below.