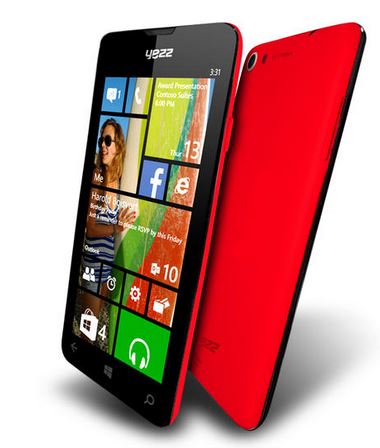 Like Prestigio, Miami based device maker YEXX also announced two new Windows Phone 8.1 devices. The YEZZ Billy 4.7 will be the world's thinnest mobile device based on Windows Phone 8.1. This 7.2mm-slim device is protected by Gorilla Glass which covers a stunning 4.7-inch IPS screen with OGS technology and 1280×720 HD resolution. It is made of lightweight aluminum and features Dual-sim option as well. The Billy 4.7 is powered by Snapdragon quad-core processor, a 13.1 MP camera. It also supports 4G HSPA+ internet experience capable with HSDPA+ 42.2 Mbps data speed.
Find more info on pricing and availability after the break.
Compatible with all GSM networks, the unlocked Billy 4.7 comes with three interchangeable covers available in red, white and blue. It is aggressively priced at $249 and (euro) 229, the dual-SIM Billy 4.7 is expected to roll out globally late May starting with Europe, LATAM and United States. If you think $249 is a steep price tag, YEZZ will also release Billy 4.0 loaded with a 4-inch OGS screen, 8MP rear camera and 1.3MP front camera, quad core processor, retailing for only $139 and (euro) 129. The Billy 4.7 and Billy 4.0 will be available in June exclusively at Amazon.com.
See a hands-on video, courtesy of Mobilegeek.de, after the break.