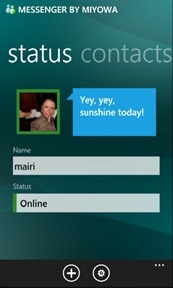 One of the biggest complaints from Windows Phone 7 users, more than multi-tasking and cut and paste, is the quality of Microsoft's anointed Live Messenger client, Messenger By Miyowa.  The app is well known to be pretty unstable, and lacks basic features such as multiple points of presence.
Now Miyowa has announced on their blog that their software is getting better.
From March 1st an updated version will roll out which will feature a Live Tile where online/offline status and notification to new messages will appear.
Probably less in demand, the software will now also allow its background to be customized. 
They also promised further improvements are on the way, and with so much still to do, I am sure that will be very welcome.
Thanks J for the tip.