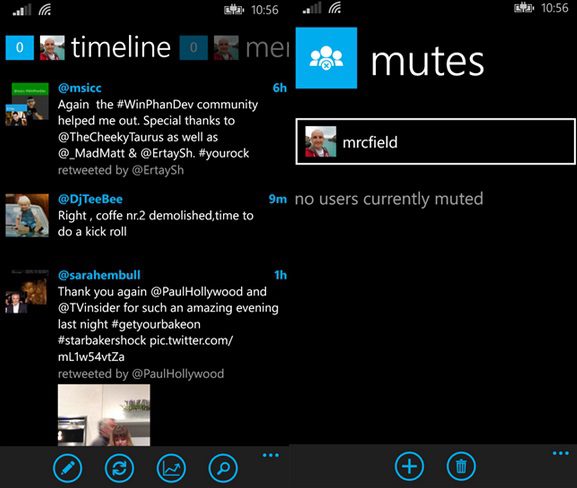 Mehdoh is arguably the best Twitter client available for Windows Phone right now. Due to changes in Windows Phone 8.1 API, Mehdoh has removed the inbuilt Soundcloud support. However, it now includes the support for muting users and they have optimized the app for Windows Phone 8.1.
Full list of features:
– Multiple Twitter account support.
– Twitter Streaming (real-time feeds).
– Pin Twitter Searches or Lists to the main screen.
– In-line media previews for dozens of image providers (including instagram)
– Vine video playback.
– View replies and conversations history.
– Image / website previews in the app
– Lock screen notifications and live tile
– Lock screen wallpaper
– Voice commands
– Fully customisable layout.
– An amazing new clutter-free photo timeline.
– Pocket and Instapaper support.
– Integration with Pouch, Squirrel, Owl and other Pocket apps (WP8 only).
– Integration with MetroTube, myTube, and Youtube apps (WP8 only).
– Built in full screen YouTube player.
– LOTS more features and fully configurable.
Download it here from Windows Phone Store for free.