No HTC Touch HD video today, but
Poland seems to be seeped in HTC Touch HD's (rather the opposite of USA I imagine) and from there we get another comprehensive (p)review of this hotly anticipated device. The author warns that he reviewed a pre-production device, and was therefore not allowed to say anything bad about the device. Despite this he did have the odd criticisms however.
One interesting quote I pulled from the review however was this:
HTC HD is elegant, simple and really beautiful, although it appears slightly larger and less convenient than 3G iPhone, which is more oval rear. The screen size of 3.8 inches in a phone may come as a shock to some, but in practice simply delights. 3.8 inches allows for considerable improvement of perfect ergonomics and a nice touch interface TouchFLO 3D, as well as best-screen keyboard that we found so far in the phone. The screen is less sensitive than the iPhone, but the iPhone reign as the ideal in this respect is now finished. IPhone, although it has a better touch screen, is much worse for the keyboard. In HD write immediately without any errors, we do not need to learn anything, etc. What's more, I had no problem writing a text message with the same hand that is holding the phone. Keyboards hardware in HD is entirely not missed.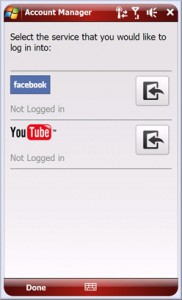 What is also clear from the copious screenshots is that due to the WVGA nature of the screen, the oversized keyboard no longer intrudes as much onto screen content.
While going through the 100-odd screen captures, I came across this new app in the control panel, called Account Manager. It is unclear what functionality this hooks into (maybe our readers can help out), but it does seem to reach out to the web 2.0 world in some way, which is at present essential for an advanced smartphone to succeed these days.
Read the 5 page review here (Exterior Interface  Browser  E-mail, Camera, GPS Conclusion) and see the 3 screenshot galleries here (Set 1, Set 2, Set 3)
Source:GSMOnline.pl