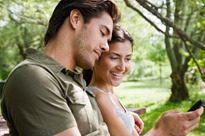 Match.com published the results of their yearly singles survey, and some of the 200 questions they directed at the 5000 singles related to mobile phones.
They found 49% of iPhone singles went on at least one first date in 2012. Next up were Windows Phone users, 46% of whom had first-dated; for Android users, it was 44%. BlackBerry owners were the least likely to have been on a first date that year; only 42% of them had done it. Lastly only 27% of feature phone users had gone on a first date that year, while only 18% of those without a phone only went on first dates in 2012.
The survey confirms that while flashing an iPhone will help you pick up a date at a bar, a Nokia Lumia 920 is not far behind, while that Samsung Galaxy Ace may not say too many nice things about you 😉
Read more about the survey, which at least Match.com takes rather seriously, at their blog here.
Have our readers found their Windows Phone helps them pull? Let us know below.
Via Mashables.com